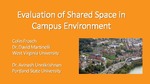 Description
Pedestrian and vehicle movement conflicts and the associated safety and efficiency issues have always been addressed in traffic engineering based on the principle of separation through bridges, tunnels, or signals. Pioneered by Hans Monderman, shared space is a new approach in transportation design which inverts this paradigm of separation and designs streets with no demarcations or access restrictions. Shared space has been implemented in a number of cases in Europe with improved efficiency and safety. This research focuses on a specific case study for analyzing the possible implementation of shared space in the United States on the West Virginia University downtown campus in the heart of Morgantown, West Virginia.
Biographical Information
Dr. Avinash Unnikrishnan is an Associate Professor of Civil and Environmental Engineering in the in the Maseeh College of Engineering & Computer Science at Portland State University. He is interested in enhancing system sustainability and efficiency by developing novel traffic and freight network equilibrium models. In his research, he applies network optimization and traffic simulation algorithms to optimize the planning and operations of traffic, transit and freight networks. Dr. Unnikrishnan is also extremely interested in performing multi-disciplinary research by applying systems and uncertainty analysis principles in other domains of civil engineering. He is passionate about mentoring graduate and undergraduate students in research, and several of his students have been the recipients of prestigious national level fellowships and awards.
Subjects
Transportation -- West Virginia -- Planning, Urban transportation -- Planning, Streets -- West Virginia -- Design and construction, Pedestrians -- West Virginia -- Safety measures -- Planning
Disciplines
Transportation | Urban Studies and Planning
Persistent Identifier
http://archives.pdx.edu/ds/psu/18368
Recommended Citation
Unnikrishnan, Avinash, "Evaluation of a Shared Space Alternative in Morgantown, WV" (2015). PSU Transportation Seminars. 58.
http://archives.pdx.edu/ds/psu/18368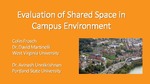 Included in
COinS