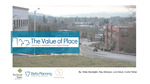 Description
"The Value Of Place in Tigard, Oregon"
The Tigard Triangle in Tigard, OR is an area defined by highways and auto-oriented land uses that does not represent the City of Tigard's vision to be the most walkable city in the Northwest. This presentation will show how the Delta Planning MURP workshop team used the State of Place analytic tools to diagnose the performance of the built environment in the Triangle and recommend urban design solutions to improve the walkability, safety, comfort, and aesthetics of the built environment for those who live, work and do business in the Tigard Triangle.
Final report is available online at: http://archives.pdx.edu/ds/psu/17515
Biographical Information
The Delta Planning MURP Workshop consists of Portland State University students Wala Abu Hejleh, Ray Atkinson, Linn Davis and Curtis Fisher. Curtis Fisher is a graduate student pursuing a Master's of Urban and Regional Planning degree from Portland State University.
Subjects
City planning -- Oregon -- Tigard, Pedestrian areas -- Planning, Community life, Suburbs -- Oregon -- Planning
Disciplines
Urban Studies | Urban Studies and Planning
Persistent Identifier
http://archives.pdx.edu/ds/psu/18212
Recommended Citation
Fisher, Curtis, "Delta Planning Workshop Team" (2016). PSU Transportation Seminars. 9.
http://archives.pdx.edu/ds/psu/18212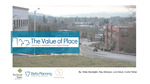 Included in
COinS