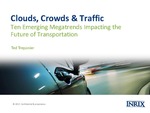 Description
Ten new megatrends will be presented with a discussion on the resulting shifts on the transportation industry. Details will include a look on broken trends and the new challenges introduced for transportation planning. Thoughts will also be presented introducing a pivot to the current model being pursued by the Connected Vehicle program. Finally, planners will be challenged to consider a new question for the future of our connected communities, you have to come to hear it.
Biographical Information
Ted Trepanier is the Senior Director for the Public Sector with INRIX, Inc. Prior to joining INRIX, Ted was the Director of Traffic Operations for the Washington State Department of Transportation. In addition to his extensive background in traffic operations, he has experience in design, planning, project management and toll operations. Ted earned his Bachelor's Degree in Civil Engineering from Washington State University and Masters in Civil Engineering from the University of Washington.
Subjects
Urban transportation -- Planning, Transportation -- Forecasting, Transportation industry, Transportation -- Planning, Urban transportation -- Forecasting
Disciplines
Transportation | Urban Studies and Planning
Persistent Identifier
http://archives.pdx.edu/ds/psu/18422
Recommended Citation
Trepanier, Ted, "Clouds, Crowds, and Traffic: What 10 Emerging Megatrends Mean for the Future of Transportation" (2013). PSU Transportation Seminars. 95.
http://archives.pdx.edu/ds/psu/18422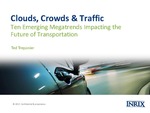 Included in
COinS