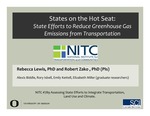 Description
Transportation accounts for approximately 33 percent of greenhouse gas (GHG) emissions in the United States. While the federal government issued notice of a proposed rule that would include a GHG reduction performance measure for the first time, over the past decade, several innovative states have offered leadership on policies aimed at reducing GHG through transportation.
A recent project examines innovative policies in four such states: California, Maryland, Oregon and Washington. This webinar will:
Highlight policy approaches for reducing GHG from transportation,
Offer an assessment of strengths and weaknesses of various policy approaches, and
Provide recommendations for a broad range of practitioners including state and regional planners, federal staff, and advocates.
Key takeaways focus on how state, federal and metropolitan policy organizations can use transportation and land use plans to achieve GHG reduction goals.
Biographical
Rebecca Lewis (Ph.D.) is an assistant professor in planning, public policy and management at the University of Oregon and a faculty affiliate at the National Center for Smart Growth Research and Education at the University of Maryland. She currently serves as the research director for the Sustainable Cities Initiative at the University of Oregon. She holds a master of public policy degree from the University of Maryland and a Ph.D. in urban and regional planning and design from the University of Maryland. Dr. Lewis was a 2010 Lincoln Institute of Land Policy C. Lowell Harriss Dissertation Fellow and received 2012 Barclay Gibbs Jones Award for the Best Dissertation in Planning from the American Collegiate Schools of Planning for her dissertation evaluating the efficacy of smart growth in Maryland. Her research has been published in peer-reviewed journals including the Journal of the American Planning Association, State and Local Government Review, and the American Journal of Public Health. Her research broadly focuses on state land use policy, the integration of climate, transportation and land use planning, state and local finance and measuring urban form. Currently, she is working on three projects funded by the National Institute for Transportation and Communities and recently received funding to study best practices for land use policy in the Chesapeake Bay from the Chesapeake Bay Program. At the University of Oregon, she teaches courses in growth management, sustainable cities, public budget administration and research methods.
Subjects
Greenhouse gases -- Effect of transportation on, Air quality -- Research
Disciplines
Transportation | Urban Studies
Persistent Identifier
http://archives.pdx.edu/ds/psu/18514
Recommended Citation
Lewis, Rebecca, "Webinar: States on the Hot Seat: State Efforts to Reduce Greenhouse Gas Emissions from Transportation" (2016). TREC Webinar Series. 12.
http://archives.pdx.edu/ds/psu/18514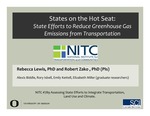 Included in
COinS