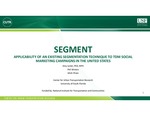 Description
Social marketing seeks to develop and integrate marketing concepts with other approaches to influence behaviors that benefit individuals and communities for the greater social good. It is a useful transportation demand management (TDM) planning approach to promote travel behavior change. The purpose of this study was to explore a consumer market segmentation technique successfully used in Europe for its applicability to marketing efforts in the United States. Attitudinal and demographic data were collected from 1900 individuals in Florida, Oregon, and Virginia modeled after the European approach. Clustering analysis was applied to divide the sample into segments so that members of the same group share similar attitudes. These include attitudes about various modes, car use, and congestion and environment. A classification model was built to predict group membership. The most stable and distinctive segmentation resulted in 7 segments. From this list of over 100 attitudinal questions, 17 questions were found to separate segments most significantly and predict group membership with high level of accuracy. Attitudinal profiles for each group were developed based on thee mean responses to these "golden questions". This webinar will discuss the method and results.
Biographical
Philip L. Winters is Director, Transportation Demand Management (TDM) Program at the Center for Urban Transportation Research (CUTR) at the University of South Florida (USF). He has nearly 38 years' experience in TDM, including 10 years managing a regional TDM program in Virginia and over 25 years at CUTR conducting research and providing training/technical assistance. He is an emeritus member of the Committee on TDM of the Transportation Research Board. Phil also received the prestigious Association for Commuter Transportation's Bob Owens TDM Champion Award in 2007.
Amy Lester is a Faculty Research Associate at the Center for Urban Transportation Research at the University of South Florida. Dr. Lester earned her PhD in Public Health concentrating on Social Marketing in 2014 from the University of South Florida, College of Public Health. Dr. Lester holds additional undergraduate and graduate degrees in Public Health, Anthropology, and Biomedical Sciences. Dr. Lester has strong methodological expertise, and her research interests focus on qualitative formative research, social marketing, social determinants of health, and program evaluation. In addition to research, Dr. Lester has extensive teaching experience at both the college and high school levels.
Subjects
Transportation demand management, Transportation -- Planning, Social marketing, Cluster analysis, Market segmentation
Disciplines
Civil Engineering | Transportation | Transportation Engineering | Urban Studies
Persistent Identifier
https://archives.pdx.edu/ds/psu/26702
Recommended Citation
Winters, Philip L. and Lester, Amy, "Webinar: Segmenting the Market for Transportation Demand Management Campaigns" (2018). TREC Webinar Series. 33.
https://archives.pdx.edu/ds/psu/26702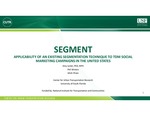 COinS