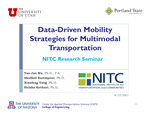 Description
Multimodal transportation systems (e.g., walking, cycling, automobile, public transit, etc.) are effective in increasing people's travel flexibility, reducing congestion, and improving safety. Therefore, it is critical to understand what factors would affect people's mode choices. With advanced technology, such as connected and automated vehicles, cities are now facing a transition from traditional urban planning to developing smart cities. To support multimodal transportation management, this study serves as a bridge to connect speed management strategies of conventional corridors to connected vehicle corridors.
The study consists of three main components. In the first component, the impact of speed management strategies along traditional corridors was evaluated. In the second component, the impacts of the specific speed management strategies, signal retiming and coordination, on transit signal priority (TSP) was studied. Finally, in the third component, the feasibility of using controller event-based traffic data for estimating multimodal signal performance measures was investigated. The research outcomes of this study will help decision-makers understand the data and infrastructure needs in supporting future multimodal planning, operation, and safety tasks.
Biographical
Dr. Abolfazl Karimpour is an adjunct professor and post-doctorate researcher at the University of Arizona. His research interests are Traffic Operation and Safety, Traffic signal Optimization, Data Analytics, and Freight Transportation. He has published over 10 peer-reviewed research articles in journals and conferences. He has presented his research findings more than 15 times at national and international conferences. Dr. Karimpour is the CO-PI and primary researcher on several national, regional, and local transportation projects. Dr. Karimpour is also a member of the Institute of Transportation Engineers (ITE) and is the associate member of American Society of Civil Engineers. Currently, he serves a NCHRP panelist.
Dr. Yao-Jan Wu is an associate professor of transportation engineering and the Director of Smart Transportation Lab in the Civil and Architectural Engineering and Mechanics Department at the University of Arizona (UA). Dr. Wu received his Ph.D. degree from the University of Washington, Seattle in 2010. Currently, Dr. Wu is the faculty advisor of the UA Institute of Transportation Engineers (ITE) student chapter. He has served as the Principal Investigator (PI) or Co-PI of over 30 national/international projects. Dr. Wu has more than 100 refereed publications, including more than 50 journal publications. He has presented his research findings more than 100 times at national and international conferences, and invited speaker events. Dr. Wu's research interests highlight a strong connection between information technology (IT) and traditional transportation research.
Dr. Yang is an Assistant Professor (Transportation Engineering) in the Department of Civil & Environmental Engineering at the University of Utah. Dr. Yang received his Ph.D. and M.S. degrees in Civil Engineering from the University of Maryland, College Park, and his B.S. degree in Civil Engineering from Tsinghua University. Dr. Yang's current research areas include machine learning for transportation modeling, traffic operations with connected automated vehicles, traffic safety, transportation equity, transportation planning, etc. He is the recipient of the prestigious NSF CAREER award in 2021. He has published over 100 peer-reviewed research articles in journals and conferences. He is currently the editorial board member of Transportation Research, Part C, the Associate Editor of ASCE Journal of Urban Planning and Development and IEEE OJ- Intelligent Transportation Systems, and the Handling Editor of TRB Transportation Research Record. He is also the Vice-Chair of INFORMS JST ITS committee and the Secretary of the ASCE Artificial Intelligence committee. He is the appointed member of two TRB standing committees (ACP25-Traffic Signal Systems and AMR20-Disaster Response, Emergency Evacuations, and Business Continuity). He serves as the panelist of NSF, NCHRP, and multiple USDOT University Transportation Centers.
Disciplines
Transportation | Urban Studies and Planning
Persistent Identifier
https://archives.pdx.edu/ds/psu/36608
Recommended Citation
Wu, Yao-Jan; Karimpour, Abolfazl; and Yang, Xianfeng Terry, "Webinar: Data-Driven Mobility Strategies for Multimodal Transportation" (2021). TREC Webinar Series. 61.
https://archives.pdx.edu/ds/psu/36608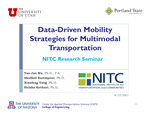 Included in
COinS