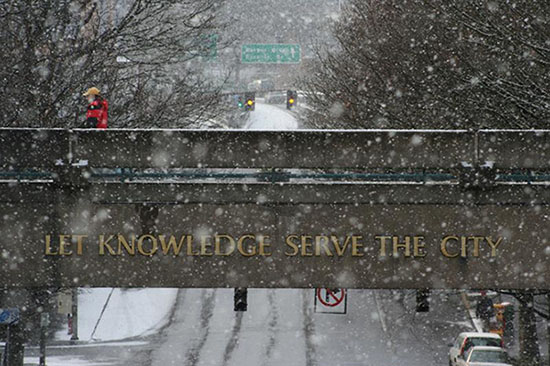 What Does it Mean to be Educated in the 21st Century?
Faculty, staff, community and student panelists discussed how higher education and we at PSU should respond to social and economic needs of the present and future. The day began with a keynote address followed by a multiplicity of voices discussing what it means to be educated in the modern world. The themes explored included how tomorrow's education will address depth and breadth, productivity and wellness, local and global issues, and inclusion and equity, and there were opportunities for participants to engage in table conversations. Emergent discussion of ideas were captured for ongoing work by the Faculty Senate and other university leadership.
This year's symposium, "What does it mean to be educated in the 21st century," explores this topic through multiple lenses. View the video to hear more about what Professors Gina Greco and Maurice Hamington have to say about the Winter Symposium 2016.
Link to library resources on
Course Reserves
Schedule
2016
Wednesday, January 20th
8:45 AM

Welcome & Keynote Address by Dr. Kevin P. Reilly

Wim Wiewel, Portland State University
Sona K. Andrews, Portland State University
Brad Hansen, Portland State University
Kevin P. Reilly, University of Wisconsin System


Portland State University

8:45 AM - 10:30 AM

10:45 AM

First Panel: Balancing Academic Depth and Breadth

Michael Clark, Portland State University
Michael Flower, Portland State University
Sydney Kim, Portland State University
Judith A. Ramaley, Portland State University
Maurice Hamington, Portland State University


Portland State University

10:45 AM - 11:00 AM

11:00 AM

Table Discussion Final Summary - Balancing Academic Depth and Breadth

Portland State University


Portland State University

11:00 AM - 11:30 AM

11:00 AM

Table Discussion Notes - Balancing Academic Depth and Breadth

Portland State University


Portland State University

11:00 AM - 11:30 AM

11:30 AM

Second Panel: Harmonizing Education for Local Concerns with Global Issues

Pelin Basci, Portland State University
Veronica Dujon
Felipe Ferreirra, Portland State University
Derrick Olsen, Greater Portland
Maurice Hamington, Portland State University


Portland State University

11:30 AM - 11:45 AM

11:45 AM

Table Discussion Final Summary - Harmonizing Education for Local Concerns with Global Issues

Portland State University


Portland State University

11:45 AM - 12:15 PM

11:45 AM

Table Discussion Notes - Harmonizing Education for Local Concerns with Global Issues

Portland State University


Portland State University

11:45 AM - 12:15 PM

1:05 PM

Third Panel: The Significance of Equity and Inclusion in Education

Melika Belhaj, Portland State University
Rachel Foxhoven, Portland State University
Rayleen McMillan, Portland Community College
José Padin, Portland State University
Carmen Suarez, Portland State University
Maurice Hamington, Portland State University


Portland State University

1:05 PM - 1:25 PM

1:25 PM

Table Discussion Final Summary - The Significance of Equity and Inclusion in Education

Portland State University


Portland State University

1:25 PM - 1:55 PM

1:25 PM

Table Discussion Notes - The Significance of Equity and Inclusion in Education

Portland State University


Portland State University

1:25 PM - 1:55 PM

2:10 PM

Fourth Panel: Balancing Wellness with Productivity

Lisa K. Bates, Portland State University
Katharine Cahn, Portland State University
Liddy Champion, Portland State University
Lisa Marsh, Portland State University
Maurice Hamington, Portland State University


Portland State University

2:10 PM - 2:25 PM

2:25 PM

Table Discussion Final Summary - Balancing Wellness with Productivity

Portland State University


Portland State University

2:25 PM - 2:55 PM

2:25 PM

Table Discussion Notes - Balancing Wellness with Productivity

Portland State University


Portland State University

2:25 PM - 2:55 PM

2:55 PM

Sona K. Andrews, Portland State University


Portland State University

2:55 PM - 3:30 PM