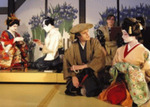 Format
Video: MP4; File size: 4.38 GB; Duration: 1:58:34
Abstract
Kabuki in English 2022 is a PSU student-performed production of kabuki and buyô dance, which was presented in PSU's Lincoln Performance Hall from May 25-28. It includes a full length, fully realized kabuki play written in 1954 by renowned author Yukio Mishima: The Sardine Seller's Net of Love. This play, performed entirely in English translation, is a heartwarming, and topsy-turvy comedy set in the city of Kyoto in 1700. The kabuki play is preceded by students performing three independent buyô dances: Kotobuki (Good Fortune); Gion Kouta (Song of Gion); Shishi no Rankyoku (Wild Lion Dance). The production was directed by Laurence Kominz, Professor of Japanese, WLL, and he provides an oral explanation of the program during the show.
Kabuki, a world-renowned form of traditional Japanese performance art incorporating music, dance and mime, returns to Portland State this spring. The Sardine Seller's Net of Love, the most popular kabuki play written by the brilliant and multi-talented Yukio Mishima, tells the story of the improbable love between a humble sardine seller and the most glamorous courtesan in Kyoto.
PSU is the only American university to stage a traditional Japanese production every year under the direction of Larry Kominz, who was awarded the prestigious Order of the Rising Sun, Gold Rays with Neck Ribbon, for his contributions to the introduction of Japanese culture in the U.S.
Special guest performance by PSU Taiko Ensemble as added attraction.
Biography/Biographies
Professor Kominz received his Ph.D. in Japanese literature from Columbia University under the supervision of Donald Keene. His writing and research specialty is Japanese drama, and he has also taken performance lessons in Japan in noh, kyôgen, kabuki, and gidayû bushi (recitation for Bunraku puppet theatre). Kominz teaches courses in Japanese language, literature, drama, and film, and he also directs fully realized kyôgen and kabuki plays in English.
Sponsor
Portland State Center for Japanese Studies presents PSU Mainstage Kabuki, 2022, co-sponsored by the Department of World Languages and Literatures & The School of Music and Theater.
Subjects
Kabuki, Experimental theater, Japanese drama
Disciplines
Acting | Dance | Japanese Studies | Theatre and Performance Studies
Creative Commons License

This work is licensed under a Creative Commons Attribution-Noncommercial-No Derivative Works 4.0 License.
Persistent Identifier
https://archives.pdx.edu/ds/psu/38527
Recommended Citation
Kominz, Larry, "Kabuki in English 2022: The Sardine Seller's Net of Love - Preceded by a Medley of Buyô Dances" (2022). Center for Japanese Studies. 1.
https://archives.pdx.edu/ds/psu/38527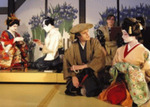 COinS