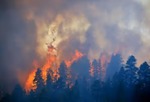 Files
Abstract
The past two decades have made it clear that there is a need to increase the resilience of fire-adapted forest landscapes to wildfire. One part of the equation is to improve community preparedness; the other part is to restore forests by removing flammable vegetation in order to decrease the severity of wildfires when they occur. One of the best ways to do this is to conduct landscape-level hazardous fuels reduction treatments that are strategically located in places where they can be most effective. Often this calls for neighboring landowners to work together to achieve desired outcomes, which is easier said than done. This talk examines the question: How can we promote wildfire risk reduction through collective action to increase the resilience of fire-prone forest landscapes across property boundaries?
Biographical Information
Dr. Susan Charnley is a Research Social Scientist with the U.S. Forest Service's Pacific Northwest Research Station in Portland, Oregon. She has a PhD in Anthropology from Stanford University. Her research focuses on natural resource use and management among rural producers, and the institutions needed to promote sustainable livelihoods and healthy ecosystems across land ownerships. Susan works mainly in forest and ranching communities in the western United States and East Africa. She has done social science research relating to wildfire for a decade. Her research aims to inform natural resource programs and policies to promote environmental conservation and rural community well-being.
Subjects
United States. Forest Service -- Management, Risk management, Wildfire risk -- United States
Disciplines
Anthropology | Environmental Sciences
Persistent Identifier
https://archives.pdx.edu/ds/psu/34937
Recommended Citation
Charnley, Susan, "Collective Action to Reduce Wildfire Risk Across Land Ownerships in the Pacific Northwest" (2021). Archaeology First Thursdays. 1.
https://archives.pdx.edu/ds/psu/34937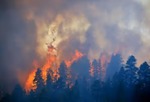 COinS