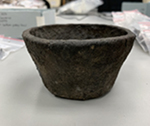 Abstract
Animal fats used as food and as fuel preserve exceptionally well in may Alaskan sites, even where bone preservation is poor. Focusing on recent collaborative work with Shelby Anderson and others, I will discuss how the application of molecular and isotopic techniques to northern Alaskan residues is providing new insights into what types of resources people were cooking in pots and burning in hearths.
Biographical Information
Tammy Buonasera is an archaeologist who uses molecular and isotopic techniques to study archaeological residues related to past diets and foodways. She is particularly interested in ways that food processing, and individuals engaged in food preparation, helped to expand the breadth and quantity of available foodstuffs among prehistoric hunter-gatherers.
She earned a PhD in anthropology from the University of Arizona (2013). While at the U of A she was an IGERT recipient, studying applications of organic chemical analyses in archaeology. She has held several postdoctoral positions in biomolecular applications to archaeological materials. This has included work on the ERC-funded Paleochar project in Spain (Carolina Mallol, PI) studying Neanderthal hearths using combined fine-grained microscopic and molecular techniques. Most recently, she completed postdoctoral studies refining a proteomic based sex-estimation technique that sequences sexually dimorphic amelogenin proteins in tooth enamel at UC, Davis. Currently, she splits her time doing academic research at UC Davis, where she is collaborating on a project with Shelby Anderson, and working in CRM as a PI at Far Western Anthropological Research Group, Inc. in Davis, California.
Subjects
Indigenous peoples -- Food -- Alaska, Food habits -- Alaska -- History, Archaeology -- Methodology, Antiquities -- Analysis, Excavations (Archaeology) -- Alaska
Disciplines
Anthropology | Archaeological Anthropology
Persistent Identifier
https://archives.pdx.edu/ds/psu/35124
Recommended Citation
Buonasera, Tammy Y., "Investigating Ancient Cooking Practices in Northern Alaska: Molecular and Isotopic Analysis of Pottery Residues and Hearth Sediments" (2021). Archaeology First Thursdays. 4.
https://archives.pdx.edu/ds/psu/35124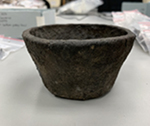 COinS