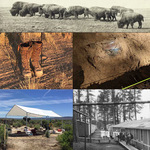 Abstract
This video includes four half hour long presentations on Eastern Oregon's ancient and more recent history, presented by archaeologists from federal agencies and universities:
Late Prehistoric Buffalo Hunters in Southeastern Oregon, by Scott Thomas
The presentation will develop the context for 16th century buffalo hunting in southeastern Oregon and then provide specific illustrations and comments about this rare and newly discovered archaeological phenomenon. Details research beginning in 1980 that is still ongoing.
Camp One: An Edward Hines Lumber Company Logging Camp of Northeast Oregon, by Katee Withee
This presentation explores the history and archaeological remains of Camp One, a logging camp located in the woods near Seneca, Oregon. The camp, surrounded by the "green gold" of eastern Oregon, was the only camp constructed to house Edward Hines Lumber Company employees. This workforce was employed to support the "largest body of timber ever offered for sale in the Northwest." A sale that included timber on USFS managed lands located in the headwaters of the Silvies River and Bear Valley. The camp supported a sawmill, bunkhouses, dining hall, horse barns, repair shops, and even boasted piped water and electricity! The camp was occupied by up to 200 men and their families from 1928-1931.
Finding Gold Mountain: Chinese Placer Miners in Oregon, by Don Hann
Thousands of Chinese gold miners worked in the gold fields of southern and eastern Oregon between the 1850s and early decades of the 1900s. They are often depicted as starving peasants driven from their homes by famine and warfare, eking out a meager subsistence reworking mines abandoned by others. The truth is much more complex and demonstrates the significant contribution by Chinese immigrants to the economic and social development of the state of Oregon. This talk will review historic placer mining techniques and discuss how the Chinese miners used these to efficiently recover gold from a variety of environmental settings.
Late Ice Age Archaeology at the Weed Lake Ditch Site, Harney County, OR , by Jordan Pratt
Weed Lake Ditch is an open-air stemmed point site located on a relic shoreline of pluvial Lake Malheur. New radiocarbon dates indicate that the site was occupied over 12,000 years ago, providing another example of a Younger Dryas (late Ice Age) archaeological site in the Harney Basin, Oregon. The artifacts recovered from Weed Lake Ditch compare favorably with other Younger Dryas aged occupations throughout the northern Great Basin and Columbia Plateau. This presentation will review the stone and bone artifacts recovered from the site, and expand on what that tells us about the early settlements in the region.
Biographical Information
Scott Thomas recently retired as the Bureau of Land Management District Archaeologist in Burns, Oregon. He received his BS in Zoology from Oregon State University (1975) and his MA in Anthropology from Portland State University (1982). His archaeological research interests include the Clovis period, Buffalo hunting Shoshone Complex, edible plants, Rimrock Draw Rockshelter, ceramics and public archaeology.
Katee Withee is the District Archaeologist for the Blue Mountain Ranger District, Malheur National Forest. She received her BA in Anthropology from Portland State University and MA in Anthropology from the University of Nevada, Reno. She spent several years working for land management agencies in Oregon, California, Nevada, and Idaho before moving to eastern Oregon. She is interested in historical archaeology, identity, and material culture. Fun fact – she is a graduate of Burns High School!
Don Hann has been working as an archaeologist for thirty years, most of this time spent on the Malheur National Forest in the southern Blue Mountains of eastern Oregon. He manages one of the largest Federal cultural resource programs in Oregon, which includes over 5,000 documented archaeological and cultural sites. Hann has been a proponent of public archaeology during his career and has worked with volunteers from the Forest Service's Passport In Time (PIT) program since 1994. His research interests include American Indian rock art, lithic technology and, for the last five years, Chinese gold mining and associated sites.
Jordan Pratt is a PhD candidate in Anthropology at Texas A&M University, where she works with the Center for the Study of the First Americans. Jordan received her BA from the University of Oregon in 2015, and has participated in archaeological research in Harney County since 2012. Her dissertation research focuses on excavating open-air stemmed point sites in the Harney Basin and interpreting the lithic technological organization of the peoples who used those sites.
Subjects
Archaeology -- Oregon, Indians of North America -- Antiquities -- Oregon, American bison hunting -- Oregon -- 16th century, Lumber camps -- Oregon -- History
Persistent Identifier
https://archives.pdx.edu/ds/psu/35900
Rights
© Copyright the author(s)

IN COPYRIGHT:
http://rightsstatements.org/vocab/InC/1.0/
This Item is protected by copyright and/or related rights. You are free to use this Item in any way that is permitted by the copyright and related rights legislation that applies to your use. For other uses you need to obtain permission from the rights-holder(s).
DISCLAIMER:
The purpose of this statement is to help the public understand how this Item may be used. When there is a (non-standard) License or contract that governs re-use of the associated Item, this statement only summarizes the effects of some of its terms. It is not a License, and should not be used to license your Work. To license your own Work, use a License offered at https://creativecommons.org/
Recommended Citation
Thomas, Scott; Withee, Katee; Hann, Don; and Pratt, Jordan, "The Archaeology Roadshow Presents: Archaeology on Tap" (2021). Archaeology Roadshow. 8.
https://archives.pdx.edu/ds/psu/35900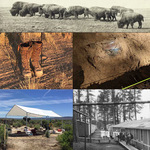 COinS