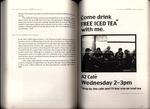 Title
Publication Date
5-1-2008
Description
Avalon used his Art History class time in Graduate School to reenact social-practice projects from the previous 10 years. He contacted the artists to ask them about their projects and then he documented these emails and his reenactments however possible. With Mads Lynnerup, San Keller, Ashley Neese, Josh Greene, Markuz Wernli Saito and others.
Link to Artist Website
Key Words
Art history reenactments
Publication Location
Portland OR
Original Format
digital publication
Rights
The Art and Social Practice Archive materials are made available to the public under Creative Commons for personal, educational and non-commercial use within the parameters of "fair use" as defined under U.S. copyright law. No material will be reproduced, broadcast or distributed for commercial purposes.
Recommended Citation
Kalin, Avalon, "Art History Reenactments" (2008). Art History Reenactments. 1.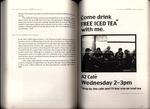 COinS