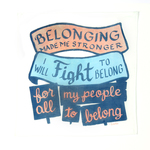 Title
Belonging (SF Bay Area)
Publication Date
Spring 4-8-2019
Description
Christine Wong Yap with contributors, developed as inaugural artist-in-residence at the Othering & Belonging Institute (formerly the Haas Institute for a Fair & Inclusive Society) at UC Berkeley.
The goal of The Belonging Project is to share the pivotal places, activities, communities, and experiences that shape Bay Area residents' connectedness to a neighborhood and region. Stories about places of belonging or senses of belonging that contributors carried with them were solicited via an open call as well as partnerships with community-organizations such as Soccer Without Borders, NIAD, The Beat Within, Chinese Culture Center of San Francisco, and more. Twenty-five places of belonging were commemorated with a framed, letterpress-printed, hand-lettered certificate installed on location in collaboration with the location owners or residents. Six stories of carried belonging were interpreted as designs for bandannas screen-printed by the artist. One hundred stories of belonging were compiled, along with photo documentation of the certificates and bandannas, excerpts of contributors' narratives, and a foreword by Othering and Belonging Institute Arts and Culture Strategy Coordinator Evan Bissell, in a 116-page book. The book also includes 15 qualities of belonging identified in collaboration with Bissell.
Publication Location
San Fransisco
Rights
The archive materials are made available to the public under Creative Commons, for personal, educational, and non-commercial use within the parameters of "fair use" as defined under U.S Copyright law. No materials will be reproduced, distributed, or broadcasted for commercial purposes.
Recommended Citation
Yap, Christine Wong, "Belonging (SF Bay Area)" (2019). 2018 - 2022. 1.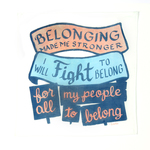 COinS