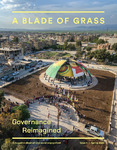 Publication Date
Spring 2020
Description
Issue 4: Governance Reimagined
Artists from across a diversity of geographies take on how we might live otherwise, how we might rethink governance. Guest edited by Laura Raicovich.
A Blade of Grass provides resources to artists who demonstrate artistic excellence and serve as innovative conduits for social change. They evaluate the quality of work in this evolving field by fostering an inclusive, practical discourse about the aesthetics, function, ethics and meaning of socially engaged art that resonates within and outside the contemporary art dialogue.
Key Words
A Blade of Grass, governance, geographies
Publication Location
New York, New York
Publisher
A Blade of Grass
Original Format
printed magazine
Rights
The Art and Social Practice Archive materials are made available to the public under Creative Commons for personal, educational and non-commercial use within the parameters of "fair use" as defined under U.S. copyright law. No material will be reproduced, broadcast or distributed for commercial purposes.
Recommended Citation
A Blade of Grass, "A Blade of Grass Magazine Issue 4: Governance Reimagined" (2020). A Blade of Grass. 4.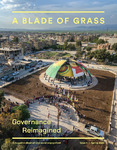 COinS