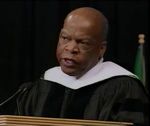 Files
Original Description
Congressman John Lewis received the honorary degree of Doctor of Humane Letters and delivered the commencement address at Portland State University's 2004 Commencement ceremony, June 12, 2004.
PSU President Daniel Bernstine presented the degree. Closing remarks by PSU Provost Mary Kay Tetrault.
Notes
From page 7 of the program for Portland State University's 2004 Commencement ceremony:
"Congressman John Lewis has worked throughout his life to promote equality and opportunity through nonviolent action.
"At 23, he was one of the architects of the 1963 March on Washington for civil rights and was recognized as one of the `Big Six' leaders of the civil rights movement. As the head of the Student Non-Violent Coordinating Committee from 1963 to 1966, Congressman Lewis organized peaceful voter registration drives and community action programs throughout the South, including the 'Mississippi Freedom Summer,' when protesters lost their lives to demand fulfillment of the Constitutional right to vote.
"In 1965, Congressman Lewis and Hosea Williams led more than 600 peaceful marchers across the Edmund Pettus Bridge in Selma, Alabama. They were met by state troopers who beat them with clubs and trampled them under their horses. Congressman Lewis and the other marchers reacted to the violence by kneeling in prayer. In response, he, along with others, was beaten unconscious and left on the brink of death with his skull fractured. `Bloody Sunday' led ultimately to the passage of the Voting Rights Act of 1965.
"Congressman Lewis' public service career has included an appointment by President Jimmy Carter to lead ACTION, a federal volunteer agency, in 1977, and election to the Atlanta City Council in 1981. Today, in 2020, Congressman Lewis works to promote peace and civil rights in American foreign and domestic policy as the U.S. Representative from Georgia's Fifth Congressional District.
"Congressman Lewis has received many honorary degrees and prestigious awards, including the John F. Kennedy Profile in Courage Award for lifetime achievement. He is also the author of the award-winning bestseller, Walking with the Wind, a history of the civil rights movement. Recently, Senator John McCain, in his book entitled Why Courage Matters, wrote, `I've seen courage in action on many occasions. I can't say I've ever seen anyone possess more of it, and use it for any better purpose and to any greater effect, than John Lewis.'
"For his dedication to equality and social justice, for his commitment to help create a civil and democratic society, and for his relentless courage, Portland State University is honored to award Congressman John Lewis the degree of Doctor of Humane Letters and to have him deliver the 2004 Commencement Address."
Rights
This digital access copy is made available as streaming media for personal, educational, and non-commercial use only. It cannot be reproduced in any form, distributed or played for commercial purposes. It is made accessible because of one or more of the following situations: the rights are owned by State Board of Higher Education, on behalf of Portland State University; Portland State University has permission to make it accessible; it is made accessible for education and research purposes under fair use ; or there are no known restrictions on use. In the event that previously unknown information is shared that may change the status of this item, it will be immediately removed from public view until pertinent rights issues are clarified.
Persistent Identifier
https://archives.pdx.edu/ds/psu/38229
Recommended Citation
Lewis, John, "2004 Commencement Address" (2004). Commencement. 2.
https://archives.pdx.edu/ds/psu/38229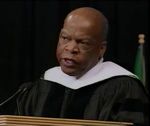 COinS