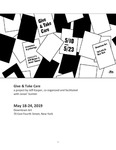 Title
Publication Date
Spring 5-18-2019
Description
Give & Take Care is an iterative social space for dreaming strategies of recovery from harmful relationships and cultures of normative love.
The low-light sensory space offers time to practice safety and consent with others. Accompanying programs are designed with participants and guest organizers to offer context specific tools for exploring care, conflict, and accountability. Visitors are encouraged to bring a partner, friend, accomplice, or feel free to participate solo in the many lounges for play, napping, holistic nervous system health, and reading.
Give & Take Care features a non-circulating library on contemplative arts, queer sexuality, and disability culture.
Link to Artist Website
Keywords
transformative justice; healing justice; trauma; disability; queer; mental health
Publication Location
Traveling project recently in New York City and western Massachusetts
Rights
The Art and Social Practice Archive materials are made available to the public under Creative Commons for personal, educational and non-commercial use within the parameters of "fair use" as defined under U.S. copyright law. No material will be reproduced, broadcast or distributed for commercial purposes.
Recommended Citation
Kasper, Jeff, "Give & Take Care" (2019). Give and Take Care. 2.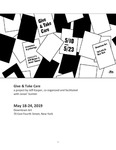 COinS