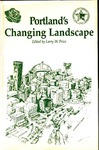 Files
Download Introduction (689 KB)
Download 1. Portland's Landscape Setting (3.2 MB)
Download 2. Weather and Climate of Portland (3.4 MB)
Download 3. Portland's Changing Riverscape (3.5 MB)
Download 4. Changes in Downtown Portland (3.1 MB)
Download 5. The Everyday City: Portland's Changing Neighborhoods (3.2 MB)
Download 6. Shaping and Managing Portland's Metropolitan Development (2.8 MB)
Download 7. Changing Residence in a Changing City (3.9 MB)
Download 8. Portland's East Asian Connection (2.8 MB)
Download 9. Transportation Planning in the Portland Metropolitan Area (1.5 MB)
Download 10. Economy of the Portland Area (2.2 MB)
Download 11. Port of Portland (2.7 MB)
Download 12. Silicon Forest (8.6 MB)
Download 13. Portland: The Most Livable City? (8.4 MB)
Description
Occasional Papers in Geography Publication No. 4
What is the nature and character of Portland? What are the conditions, changes and developments that have made it what it is? How does Portland compare with other places? What makes it unique? These are some of the question pursued in this volume.
This book contains thirteen chapters discussing various facets of Portland's environmental, economy, and character. It is an up-to-date and comprehensive analysis of dynamics and change in the landscape. An overview is provided of Portland as a city and place to live, as well as its functional significance on a national and international basis.
Two threads are woven through the tapestry of these essays. One is that Portland is a big city but with many attributes of a small town. The other is the closeness and accessibility of city and nature. The challenge is how to nurture and maintain both - to have our cake and eat it too. The evidence is clear that most American cities have not been able to achieve this. Only the future can tell how Portland will fare.
The authors are all professional geographers or work in closely related fields. All have been involved with the Portland scene for a number of years and are uniquely qualified to write about these topics. While each approaches problems from his or her own perspective, the net result is a summing up, a taking stock of where we have been and where we are going. When considered as a whole the book should provide a better view than we have had of the nature and character of this special place.
Publication Date
4-1-1987
Publisher
Department of Geography Portland State University
Subjects
Transportation -- Oregon -- Portland Metropolitan Area -- Planning, Neighborhood planning -- Oregon -- Portland, Community development -- Oregon -- Portland, Portland (Or.) -- History, Portland (Or.) -- Climate -- History, Demographic surveys -- Oregon -- Portland, Port of Portland (Or.), Portland Metropolitan Area (Or.) -- Economic conditions
Disciplines
Transportation | Urban Studies | Urban Studies and Planning
Persistent Identifier
http://archives.pdx.edu/ds/psu/13401
Recommended Citation
Price, Larry W.; Johnson, Daniel M.; Ashbaugh, James A.; Dotterrer, Steve; Abbott, Carl; Poulsen, Thomas M.; Lycan, Richard; Latz, Gil; Dueker, Kenneth; Edner, Sheldon; Rabiega, William A.; Kale, Steven R.; Corcoran, Patrick E.; Vanselow, Glenn; Hamilton, F. E. Ian; Chapman, Nancy J.; and Starker, Joan, "Portland's Changing Landscape" (1987). Occasional Papers in Geography No. 4.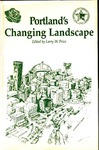 COinS