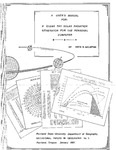 Description
Occasional Papers in Geography Publication No. 3
This program is primarily designed as an interactive instructional aid for students concerned with select aspects of shortwave radiation climatology. On the basis of user supplied temporal and geographic information the algorithm will produce instantaneous values of diffuse, direct, global, reflected, net shortwave and extraterrestrial radiation. Daily totals are also generated by numerical approximation of the area under the curve as described by each of these quantities. In addition, an optional routine to compute the instantaneous values of solar elevations and azimuths is included to further define the nature of astronomical relationships for the site under investigation. The overall structure of the program is such that the appropriate variables can be easily and conveniently manipulated to provide an accurate estimate of the shortwave radiative balance at a given point with a minimal knowledge of the relevant mathematics and of FORTRAN computer programming. It is hoped that the interested student will investigate the range of possibilities offered by this routine and use it as a stepping stone to the understanding of the many fundamental concepts involved in shortwave radiative transfer and its geographical distribution.
Publication Date
1-1-1987
Publisher
Department of Geography Portland State University
Subjects
Solar radiation -- Data processing, Generators (Computer programs), Radiative transfer -- Data processing
Disciplines
Geographic Information Sciences | Physical and Environmental Geography
Persistent Identifier
http://archives.pdx.edu/ds/psu/13402
Recommended Citation
Mountain, Keith R. and Lycan, Richard, "A User's Manual for: A Clear Sky Solar Radiation Generator for the Personal Computer" (1987). Occasional Papers in Geography No. 3.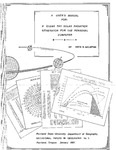 COinS