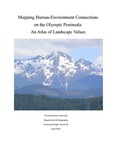 Description
Occasional Papers in Geography Publication No. 7
The advent of computerized mapping has land managers' ability to map the biophysical services provided by forested ecosystems. However, mapping the cultural services of those systems is more challenging. Human ecology mapping (HEM), which provides spatially-explicit depictions of the complex connections between humans and their environment, is an approach that can be used to improve understandings of the cultural services associated with landscapes. This atlas provides an overview of what HEM is and draws on experiences with a pilot project on the Olympic Peninsula in western Washington to illustrate what HEM data looks like and some of the ways in which it can be analyzed. Values and activity data were collected during 2010 and 2011 from 169 residents through a series of community workshops held on the peninsula. Density and diversity analysis indicated that the type of values and activities mapped as well as their spatial configuration and distribution differed depending on factors such as place of residence and gender. Values and activities were most strongly associated with national forest and state lands, and moderate to moderately steep terrain. The analyses exploring the relationship between values/activities and vegetation type and proximity to roads were inconclusive. Results from the pilot project indicated that HEM is not only useful for identifying where meaningful places and activities are concentrated, but also can help reveal important differences among subgroups as well as areas where conflicts in values and activities exist.
Publisher
Department of Geography Portland State University
Subjects
Human ecology, Washington -- Olympic Peninsula, Cultural services, Landscape values, Geographic information systems -- Citizen participation, Mapping
Disciplines
Environmental Sciences | Geographic Information Sciences | Geography | Social and Cultural Anthropology
Persistent Identifier
http://archives.pdx.edu/ds/psu/15667
Recommended Citation
McLain, R., Cerveny, L., Besser, D., Banis, D., Biedenweg, K., Todd, A., Kimball-Brown, C., and Rohdy, S. "Mapping Human-Environment Connections on the Olympic Peninsula: An Atlas of Landscape Values" (2013). Occasional Papers in Geography No. 7.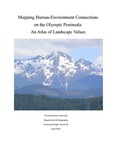 COinS