Mss. Number, Title
Preview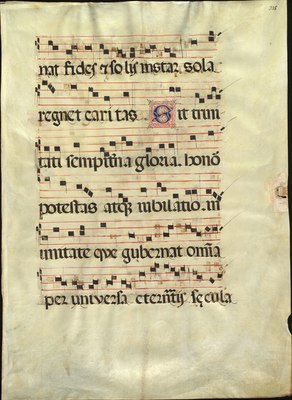 Description
Recto of leaf from an antiphonary, circa 1450-1499
Manuscript leaf of text with music, from vespers, feast of the Chair of Saint Peter, apostle. (In cathedra Petri sancti, January 18 or February 22).
Italy, late 15th century. The words before the word "Quodcumque" are associated with the final verses of a hymn; the text of "Quodcumque" is a hymn.
Text p. 235 (recto) reads: "nat fides et solis instar sola regnet caritas Sit trinitati sempiterna gloria honor potestas atque iubilatio in unitate que gubernat omnia per uniuersa eternitatis secula."
Text p. 236 (verso) reads: "na secula. Amen In Cathedram sancti petri ad vesperas. Quodcumque in orbe nexibus revixeris erit revicturum petre in arce siderum et quod resoluit hic potestas tradita erit soluturum celi in alto ver."
Modern text indicates probable continuation on next leaf: "[tice. In fine mundi uidicabis seculum]."
Rose-Wright Manuscript Collection no. 10.
Original Format
2 leaves (235-236); manuscript on vellum
Persistent Identifier
https://archives.pdx.edu/ds/psu/34716
Recommended Citation
Catholic Church, "18, Leaf from an Antiphonary" (1450). Manuscripts and Incunabula in PSU Special Collections. 12.
https://archives.pdx.edu/ds/psu/34716