Mss. Number, Title
Preview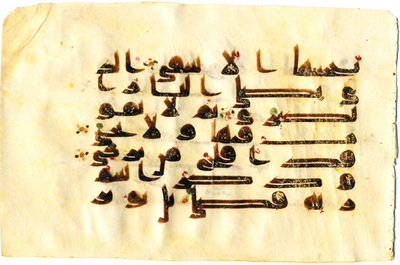 Description
One parchment leaf from the Qur'ān, Abbasid dynasty, circa 900-999, Near East or North Africa. Written in single columns of seven lines in Kufic script.
Text begins on recto at the end of verse 11 of Sūrat al-Aʻlá with part of "wa-yatajannabuhā"; text ends on recto at the beginning of verse 16 with "bal tu'thir-"; text continues on verso with verse 16 at "-ūna al-ḥayāta; text ends on verso with the end of the sūrah, followed by the title of Sūrat al-Ghāshīyah written in gold ink.
Gift of A. Gordon Hunter.
For more information about this artifact, see: https://pdxscholar.library.pdx.edu/giftoftheword/3/
Original Format
1 leaf; manuscript on parchment
Persistent Identifier
https://archives.pdx.edu/ds/psu/34731
Recommended Citation
"36, Leaf from Abbasid Qur'an in Kufic Script" (900). Manuscripts and Incunabula in PSU Special Collections. 27.
https://archives.pdx.edu/ds/psu/34731