Mss. Number, Title
Preview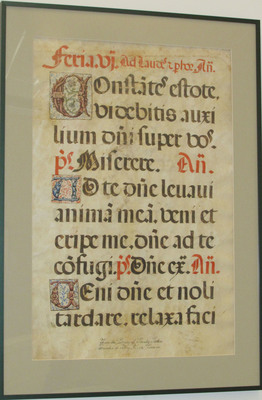 Description
Verso of leaf from an Antiphonary [Catholic Church]; Spain (?), circa 16th century.
Manuscript leaf of text: Feria vi ad laudes et per horas (Friday for lauds and for the other hours of the office). Most probably for the time of Advent, the four-week period before Christmas. Manuscript is large enough to be read concurrently by a choir. Initials: C[onstantes] of leaves. In the bow of the "C" is a small plaque with the letter IHS; A[d] blue leaf pattern on a scattered red floral ground; V[eni] a reddish floral leaf on blue ground.
Latin text on verso reads: "Constantes estotes, uidebitis auxilium domini super vos. PS. [Pslamus] Miserere. An. [Antiphona] Ad te domine leuaui animam meam. ueni et eripe me, domine ad te confugi. Ps. Domine exaudi. An. Veni domine et noli tardare relaxa faci". Modern text indicates probable continuation on next leaf:[nora plebis tuae]. (The modern printed text is found in any Latin Antiphonarium for the time of Advent, or in Paleographie Musicale, Tornay : Desclee, 1922.)
Framed and glazed in double-sided frame.
Rose-Wright Manuscript Collection no. 1.
Original Format
1 leaf; manuscript on vellum
Persistent Identifier
https://archives.pdx.edu/ds/psu/34707
Recommended Citation
Catholic Church, "09, Leaf from an Antiphonary" (1500). Manuscripts and Incunabula in PSU Special Collections. 3.
https://archives.pdx.edu/ds/psu/34707