Preview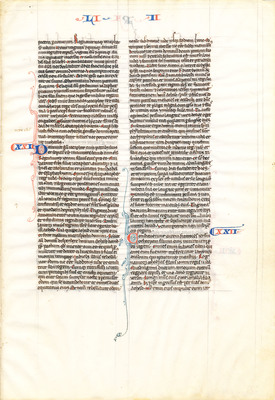 Description
Recto of manuscript leaf of Bible, OT, Chronicles 2, end of chapter 20 (verse 30) to partway through chapter 23 (verse 13). Two columns, 49 lines.
Paris, France, mid-13th century.
Red, blue two-line initials have penned ascenders and descenders. Book titles are abbreviated at head of leaf: LI[ber] II and Pa[ralipomenon]. Chapter numbers appear in the margins in red and blue.
Contrasting pen work extensions flow gracefully from the two-line initials opening each chapter.
Capitals are touched in red, and side notes and textual corrections are also found in the margins.
Modern printed text can be found in any Biblia sacra vulgatae ed. (Latin Bible, Vulgate ed.). Text reads: "pacem per circuitum Regnauit itaque Iozaphat super Iudam et erat triginta et quinque annorum cum regnare cepisset.../...et principes turmasque circa eum omnemque populum terre gaudentem atque clangentem tubis."
Modern text for the previous leaf probably starts with: "[Quieuitque regnum Iosaphat et prebuit ei deus]." Modern text indicates probable continuation on next leaf: "[et diuersi generis organis continentem]."
Rose-Wright Manuscript Collection no. 3.
Original Format
1 leaf; manuscript on vellum
Link to Medieval Portland Entry
Persistent Identifier
https://archives.pdx.edu/ds/psu/34709
Recommended Citation
"11, Leaf from Bible (Old Testament: Chronicles, 2nd, XX, 30-XXIII, 13)" (1230). Manuscripts and Incunabula in PSU Special Collections. 8.
https://archives.pdx.edu/ds/psu/34709