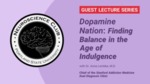 Abstract
Dr. Lembke joins the Neuroscience Club at Portland State University via Zoom to talk about topics from her latest book, New York Times bestseller, "Dopamine Nation." She starts out briefly summarizing some of the recent neuroscience in addiction that helps us understand how we process pleasure and pain and talks about a framework that she developed in her clinical practice that uses this neuroscience to inform clinical care.
Biographical Information
Dr. Anna Lembke received her undergraduate degree in Humanities from Yale University and her medical degree from Stanford University. She is currently Professor and Medical Director of Addiction Medicine, Stanford University School of Medicine. She is also Program Director of the Stanford Addiction Medicine Fellowship, and Chief of the Stanford Addiction Medicine Dual Diagnosis Clinic. She is a diplomate of the American Board of Psychiatry and Neurology, and a diplomate of the American Board of Addiction Medicine.

Dr. Lembke was one of the first in the medical community to sound the alarm regarding opioid overprescribing and the opioid epidemic. In 2016, she published her best-selling book on the prescription drug epidemic, "Drug Dealer, MD – How Doctors Were Duped, Patients Got Hooked, and Why It's So Hard to Stop" (Johns Hopkins University Press, 2016). Her book was highlighted in the New York Times as one of the top five books to read to understand the opioid epidemic (Zuger, 2018).

"Drug Dealer, MD" combines case studies with public policy, cultural anthropology, and neuroscience, to explore the complex relationship between doctors and patients around prescribing controlled drugs. It has had an impact on policy makers and legislators across the nation. Dr. Lembke has testified before Congress and consulted with governors and senators from Kentucky to Missouri to Nevada. She was a featured guest on Fresh Air with Terry Gross, MSNBC with Chris Hayes, and numerous other media broadcasts.

Using her public platform and her faculty position at Stanford University School of Medicine, Dr. Lembke has developed multiple teaching programs on addiction and safe prescribing, as well as opioid tapering. She has held multiple leadership and mentorship positions and received the Stanford's Chairman's Award for Clinical Innovation, and the Stanford Departmental Award for Outstanding Teaching. Dr. Lembke continues to educate policymakers and the public about causes of and solutions for the problem of addiction.

Look for her new book, "Dopamine Nation: Finding Balance in the Age of Indulgence" (Dutton/Penguin Random House, August 2021).
Subjects
Neurophysiology, Medical research & experimentation, Popular science, Social studies, Biological sciences, Compulsive behavior, Pleasure, Pain, Substance abuse, Internet -- Social aspects
Disciplines
Medicine and Health Sciences | Psychology | Social and Behavioral Sciences
Persistent Identifier
https://archives.pdx.edu/ds/psu/37035
Recommended Citation
Lembke, Anna, "Dopamine Nation: Finding Balance in the Age of Indulgence" (2022). The Neuroscience Club at Portland State University. 1.
https://archives.pdx.edu/ds/psu/37035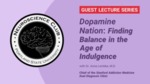 COinS