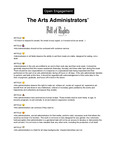 Publication Date
9-13-2019
Description
2019 — Research Triangle, North Carolina — Emergent Futures: State of the Field
"Beginning in 2019 Open Engagement is embarking on a hiatus to re-assess and evaluate the needs of the field. This will take the shape of a survey, residencies, retreats, and a series of public conversations across the US and beyond."
Key Words
conference, socially engaged art, open engagement
Publication Location
Research Triangle, North Carolina
Publisher
Open Engagement In Print
City
Research Triangle, North Carolina
Rights
The Art and Social Practice Archive materials are made available to the public under Creative Commons for personal, educational and non-commercial use within the parameters of "fair use" as defined under U.S. copyright law. No material will be reproduced, broadcast or distributed for commercial purposes.
Recommended Citation
Reyes, Jen Delos, "Arts Administrators Bill of Rights" (2019). Open Engagement. 10.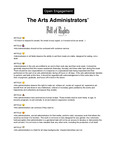 COinS