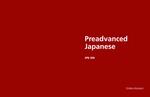 Title
Files
Download Before We Start (153 KB)
Download Chapter 1 (341 KB)
Download Chapter 2 (362 KB)
Download Chapter 3 (981 KB)
Download Chapter 4 (427 KB)
Download audio - 1. Drills (9.5 MB)
Download audio - 1. Example 4 - Self Introduction (10.4 MB)
Download audio - 1. Example 5 (8.8 MB)
Download audio - 1. Kanji Drill (2.9 MB)
Download audio - 1. Listening Comprehension Check (1.9 MB)
Download audio - 1. Listening Practice (3.0 MB)
Download audio - 1. Main Text (2.2 MB)
Download audio - 1. Opinions (2.5 MB)
Download audio - 2. Drill A (1.4 MB)
Download audio - 2. Drill B (1.8 MB)
Download audio - 2. Dill C (1.2 MB)
Download audio - 2. Drill D (2.0 MB)
Download audio - 2. Drill E (1.4 MB)
Download audio - 2. Drill F (1.5 MB)
Download audio - 2. Ex D (16.9 MB)
Download audio - 2. Kanji Drill (3.7 MB)
Download audio - 2. Listening Practice (1.9 MB)
Download audio - 2. Main Text (3.4 MB)
Download audio - 2. Moc Exam D (10.9 MB)
Download audio - 2. Opinions (3.3 MB)
Download audio - 2. Reading Comprehension Check (2.3 MB)
Download audio - 2. Reference Advanced Level (1.5 MB)
Download audio - L3. Comprehension Check (1.1 MB)
Download audio - L3. Drill A (1.5 MB)
Download audio - L3. Drill B (1.0 MB)
Download audio - L3. Drill C (1.2 MB)
Download audio - L3. Drill D (1.8 MB)
Download audio - L3. Drill E (1.4 MB)
Download audio - L3. Drill F (1014 KB)
Download audio - L3. Ex C (12.4 MB)
Download audio - L3. Kanji Drill (2.4 MB)
Download audio - L3. Listening Practice (1.6 MB)
Download audio - L3. Main Text (1.0 MB)
Download audio - L3. Opinions (4.8 MB)
Download audio - L3. Reference Graphs (1.9 MB)
Download audio - L4. Drill A (1.1 MB)
Download audio - L4. Drill B (1.3 MB)
Download audio - L4. Drill C (1.3 MB)
Download audio - L4. Drill D (934 KB)
Download audio - L4. Drill E (1.4 MB)
Download audio - L4. Drill F (2.0 MB)
Download audio - L4. Ex C (11.3 MB)
Download audio - L4. Kanji Drill (2.2 MB)
Download audio - L4. Listening Practice (2.1 MB)
Download audio - L4. Main Text (2.2 MB)
Download audio - L4. Opinion A (462 KB)
Download audio - L4. Opinion B (394 KB)
Download audio - L4. Opinion C (430 KB)
Download audio - L4. Opinion D (459 KB)
Download audio - L4. Opinion E (529 KB)
Download audio - L4. Reading Comprehension Check (1.8 MB)
Download audio - L4. Reference (1.5 MB)
Description
This textbook is designed for students who have intermediate competency in Japanese, roughly at Level 2 on the ILR (The Interagency Language Roundtable) proficiency scale, and are working on reaching Level 3.
This textbook can be used for self-study, as part of online course, and in a traditional classroom setting. It is comprised of four chapters, intended to be covered in one term of a quarter system.
Please see the Open Textbook Library for faculty reviews of this textbook
If you are an instructor adopting or adapting this PDXOpen textbook, please help us understand your use by filling out this form: https://forms.gle/sFg1WJhMvUzLh7ZE7
Publisher
Portland State University Library
Subjects
Japanese language -- Study and teaching
Rights
© 2018 Emiko Konomi

This open access textbook is licensed under a Creative Commons Attribution-NonCommercial 4.0 International License.
Persistent Identifier
http://archives.pdx.edu/ds/psu/12618
Recommended Citation
Konomi, Emiko, "Preadvanced Japanese" (2014). PDXOpen: Open Educational Resources. 1.
https://pdxscholar.library.pdx.edu/pdxopen/1
10.15760/pdxopen-8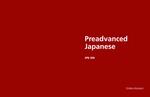 Included in
COinS