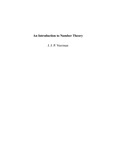 Description
These notes are intended for a graduate course in Number Theory. No prior familiarity with number theory is assumed.
Chapters 1-11 represent approximately 2 trimesters of the course. Eventually we intend to publish a full year (3 trimesters) course on number theory. The current content represents a course the author taught in Fall 2020 and Winter 2021.
It is a work in progress. If you have questions or comments, please contact Peter Veerman (veerman@pdx.edu).
Subjects
Number theory -- Study and teaching (Higher), Arithmetic -- Foundations, Diophantine equations, Prime numbers, Continued fractions, Additive functions, Modular arithmetic
Rights
© 2020 J. J. P. Veerman

This open access textbook is licensed under a Creative Commons Attribution-NonCommercial 4.0 International License.
Persistent Identifier
https://archives.pdx.edu/ds/psu/34657
Recommended Citation
Veerman, J. J. P., "An Introduction to Number Theory" (2021). PDXOpen: Open Educational Resources. 34.
https://pdxscholar.library.pdx.edu/pdxopen/34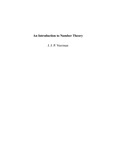 Included in
COinS