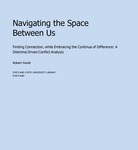 Description
Navigating the Space Between Us - Finding Connection, while Embracing the Continua of Difference: A Dilemma Driven Conflict Analysis was developed as an upper division undergraduate textbook for a conflict resolution CR 310U Values and Ethics course (required for a PSU bachelor's degree in CR) and adaptable to a conflict resolution CR 513 graduate course (required for PSU master's degree in CR). Its intended audience are students from Portland State University enrolled in a ten week, quarter system, though it is adaptable for a semester length course. The chapters are combined with other readings on conflict resolution values and ethics. This open access textbook may be used to supplement resources for other courses that address aspects of conflict resolution values and ethics.
Adopt/Adapt
If you are an instructor adopting or adapting this PDXOpen textbook, please help us understand your use by filling out this form
Publication Date
9-20-2021
Publisher
Portland State University Library
Subjects
Conflict management
Rights
© 2021 by Robert Jarvis Gould

This open educational resource is licensed under a Creative Commons Attribution-NonCommercial-ShareAlike 4.0 International License except where otherwise noted.
Recommended Citation
Gould, Robert, "Navigating the Space Between Us" (2021). PDXOpen: Open Educational Resources. 38.
https://pdxscholar.library.pdx.edu/pdxopen/38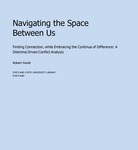 COinS