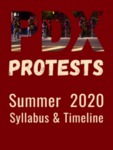 Files
Download Editable Version (Word) (96 KB)
Description
This syllabus and timeline of the protests organized in Portland throughout the summer and early fall of 2020 was compiled and written by Portland State University students enrolled in Professor Katrine Barber's HST 4/593, Introduction to Public History in Fall 2020. It was prepared in partnership with the Oregon State University Press and presented to them at the conclusion of the course. It combines local Portland journalism with a number of other scholarly resources to attempt to answer the question: "Why Portland?" The goals of the project at the outset were to correct inaccuracies or oversights in national coverage of the protests, as well as to provide context for these events. The mission of OSU Press is, in part, to "contribute to the intellectual, cultural, and social development of Oregon and the West," as well as to "extend the benefits of the university's teaching, research, and public service beyond the usual boundaries of the university community." In keeping with these values, this project seeks to bring scholarly context to an event that has touched many Oregonian lives.
Subjects
Social Justice -- Study and teaching, Anti-racism, Equality
Rights
© 2021 by the Authors

The syllabus is licensed under a Creative Commons Attribution-NonCommercial 4.0 International License.
Persistent Identifier
https://archives.pdx.edu/ds/psu/36420
Recommended Citation
Cannone, Francheska; Belcik, Nate; Franken, Macy; Green, Kelly; Harris, Sarah; Kerstens, Philippe; White, Vicky; and Barber, Katrine, "PDX Protests, Summer 2020: A Syllabus and Timeline" (2021). PDXOpen: Open Educational Resources. 39.
https://pdxscholar.library.pdx.edu/pdxopen/39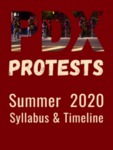 COinS