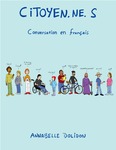 Files
Download Editable Version (Word) (27.1 MB)
Description
CITOYEN.NE.S is a French language method for the conversation class at the intermediate/ advanced level. Content and activities are built around the concepts of diversity, inclusivity and equity, and engage students to practice French while questioning and participating in the world they live in – to be full citizens whatever their background, their race or their gender identity. As the French spelling of the title indicates, the book embraces écriture inclusive and uses it for instructions and general information for all students.
The book is composed of five chapters covering various themes. None of them provides again basic vocabulary from first- and second-year French courses, like food and body parts. Instead, each chapter builds on students' previous knowledge and takes them further to develop language and cultural skills.
Each chapter presents a mix of vocabulary lists and activities, authentic documents and others that have been written for the book, based on research. Chapters end with creative activities and one overarching assignment that help students go deeper in topics of interest. Early chapters have two grammar reviews, later chapters only one.
Chapter structure:
Introduction
Vocabulaire 1 + activities
Révision grammaticale 1 + activities
Interlude
Vocabulaire 2 + activities
Révision grammaticale 2 + activities
Dossier (culturel, avec plusieurs pièces au dossier)
Texte
Film
Pour s'amuser (creative activities)
Validation du module
Chapter 1 invites students to talk about themselves beyond the hobbies and university classes that fill their schedule, and discusses identities and how different cultures understand identity. It will help students acquire vocabulary and communication skills to be and stay themselves in another culture. It also says more about écriture inclusive.
Chapter 2 discusses two very contemporary issues that students care about: climate change and immigration. These two themes open opportunities to compare French and francophone countries to the United-States, or other countries in which the book might be used.
Chapter 3 covers important information about health and study abroad that will be very useful to students who go abroad in order to better navigate the health system and be able to explain what they feel should they ever need medical care. It also presents them with new information -usually not covered in previous years or other textbooks.
Chapter 4 deals with the professional world and the workplace and discusses both dynamic entrepreneurship and discrimination so that students get motivated to work abroad while being aware of more negative realities that one can find in many countries.
Chapter 5 is about art and entertainment and, although the book aims at including countries beyond France, focuses more on African and North African art.
A Google site managed by the author, accompanies the book with answer keys for the exercises, additional resources, and an instructor manual (under development) that will offer further information to instructors about the activities in the book, variations, examples. To gain access to the site, please email the author at dolidon@pdx.edu.
Please see the Open Textbook Library for faculty Reviews of this textbook
Adopt/Adapt
If you are an instructor adopting or adapting this PDXOpen textbook, please help us understand your use by filling out this form
Publication Date
9-30-2021
Publisher
Portland State University Library
Subjects
French language -- Grammar, French language -- Study and teaching (Secondary)
Rights
© 2021 Annabelle Dolidon

This open access textbook is licensed under a Creative Commons Attribution-NonCommercial 4.0 International License.
Persistent Identifier
https://archives.pdx.edu/ds/psu/36444
Recommended Citation
Dolidon, Annabelle, "CITOYEN.NE.S: Conversation en Français" (2021). PDXOpen: Open Educational Resources. 40.
https://pdxscholar.library.pdx.edu/pdxopen/40
10.15760/pdxopen-32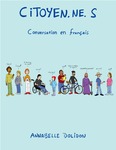 COinS