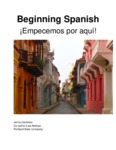 Description
Beginning Spanish ¡Empecemos por aquí! focuses on the development of communication skills in interpretive, interpersonal, and presentational modes while centering student voices. Activities engage learners in real exchanges of information on topics that are relevant to adult students. In addition to language-acquisition learning outcomes, this text supports learning outcomes in diversity, equity, inclusion, cultural sustainability, and social justice.
Print on Demand
Standard print copy (paperback)
Premium print copy (hardcover)
Please see the Open Textbook Library for faculty Reviews of this textbook.
Adopt/Adapt
If you are an instructor adopting or adapting this open educational resource, please help us understand your use by filling out this form
Publication Date
2-15-2022
Publisher
Portland State University Library
Subjects
Spanish language -- Textbooks for foreign speakers -- English, Spanish language -- Study and teaching (Higher), Spanish language -- Grammar
Rights
© 2021 by Jenny Ceciliano and Lisa Notman.

This work is licensed under a Creative Commons Attribution-NonCommercial 4.0 International License.
Persistent Identifier
https://archives.pdx.edu/ds/psu/37057
Recommended Citation
Ceciliano, Jenny and Notman, Lisa, "Beginning Spanish ¡Empecemos por aquí!" (2022). PDXOpen: Open Educational Resources. 41.
https://pdxscholar.library.pdx.edu/pdxopen/41
10.15760/pdxopen-33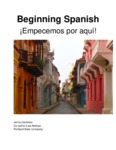 COinS