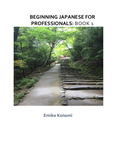 Files
Download Remediated Editable Version (Word) (666 KB)
Download Lesson 0 (482 KB)
Download Lesson 1 (807 KB)
Download Lesson 2 (659 KB)
Download Lesson 3 (605 KB)
Download Lesson 4 (603 KB)
Download Audio - Lesson 0. Instructor Directions (4.5 MB)
Download Audio - Lesson 0. Drill A (19.8 MB)
Download Audio - Lesson 0. Greetings (48.3 MB)
Download Audio - Lesson 0. Pitch Accent (6.6 MB)
Download Audio - Lesson 0. Say it in Japanese (49.3 MB)
Download Audio - Lesson 01. Dialogue 1 (7.1 MB)
Download Audio - Lesson 01. Dialogue 1 - Drill A (8.0 MB)
Download Audio - Lesson 01. Dialogue 1 - Drill B (9.7 MB)
Download Audio - Lesson 01. Dialogue 1 - Drill C (9.8 MB)
Download Audio - Lesson 01. Dialogue 2 (7.9 MB)
Download Audio - Lesson 01. Dialogue 2 - Drill A (14.6 MB)
Download Audio - Lesson 01. Dialogue 2 - Drill B (15.4 MB)
Download Audio - Lesson 01. Dialogue 2 - Drill C (10.3 MB)
Download Audio - Lesson 01. Dialogue 3 (8.6 MB)
Download Audio - Lesson 01. Dialogue 3 - Drill A (13.5 MB)
Download Audio - Lesson 01. Dialogue 3 - Drill B (13.0 MB)
Download Audio - Lesson 01. Dialogue 4 (8.8 MB)
Download Audio - Lesson 01. Dialogue 4 - Drill A (11.1 MB)
Download Audio - Lesson 01. Dialogue 4 - Drill B (15.1 MB)
Download Audio - Lesson 02. Dialogue 1 (10.1 MB)
Download Audio - Lesson 02. Dialogue 1 - Drill A (13.3 MB)
Download Audio - Lesson 02. Dialogue 1 - Drill B (13.4 MB)
Download Audio - Lesson 02. Dialogue 1 - Clock Time (4.7 MB)
Download Audio - Lesson 02. Dialogue 2 (12.6 MB)
Download Audio - Lesson 02. Dialogue 2 - Drill A (10.8 MB)
Download Audio - Lesson 02. Dialogue 2 - Drill B (15.7 MB)
Download Audio - Lesson 02. Dialogue 2 - Academic Disciplines (8.3 MB)
Download Audio - Lesson 02. Dialogue 2 - Country and Nationality (10.3 MB)
Download Audio - Lesson 02. Dialogue 3 (12.4 MB)
Download Audio - Lesson 02. Dialogue 3 - Drill A (15.2 MB)
Download Audio - Lesson 02. Dialogue 3 - Drill B (17.1 MB)
Download Audio - Lesson 02. Dialogue 3 - Languages (4.6 MB)
Download Audio - Lesson 02. Dialogue 4 (11.9 MB)
Download Audio - Lesson 02. Dialogue 4 - Drill A (13.9 MB)
Download Audio - Lesson 02. Dialogue 4 - Drill B (14.6 MB)
Download Audio - Lesson 02. Dialogue 4 - Days of the Week (3.7 MB)
Download Audio - Lesson 03. Dialogue 1 (7.8 MB)
Download Audio - Lesson 03. Dialogue 1 - Drill A (8.9 MB)
Download Audio - Lesson 03. Dialogue 1 - Drill B (12.4 MB)
Download Audio - Lesson 03. Dialogue 1 - Drill C (16.0 MB)
Download Audio - Lesson 03. Dialogue 1 - Drill D (18.6 MB)
Download Audio - Lesson 03. Dialogue 2 (8.6 MB)
Download Audio - Lesson 03. Dialogue 2 - Drill A (12.5 MB)
Download Audio - Lesson 03. Dialogue 2 - Drill B (12.7 MB)
Download Audio - Lesson 03. Dialogue 3 (7.2 MB)
Download Audio - Lesson 03. Dialogue 3 - Drill A (12.5 MB)
Download Audio - Lesson 03. Dialogue 3 - Drill B (11.8 MB)
Download Audio - Lesson 03. Dialogue 4 (9.8 MB)
Download Audio - Lesson 03. Dialogue 4 - Drill A (14.8 MB)
Download Audio - Lesson 03. Dialogue 4 - Drill B (16.6 MB)
Download Audio - Lesson 04. Dialogue 1 (11.6 MB)
Download Audio - Lesson 04. Dialogue 1 - Drill A (13.3 MB)
Download Audio - Lesson 04. Dialogue 1 - Drill B (13.9 MB)
Download Audio - Lesson 04. Dialogue 1 - Drill C (13.3 MB)
Download Audio - Lesson 04. Dialogue 2 (9.4 MB)
Download Audio - Lesson 04. Dialogue 2 - Drill A (16.1 MB)
Download Audio - Lesson 04. Dialogue 2 - Drill B (15.3 MB)
Download Audio - Lesson 04. Dialogue 2 - Drill C (12.9 MB)
Download Audio - Lesson 04. Dialogue 3 (13.4 MB)
Download Audio - Lesson 04. Dialogue 3 - Drill A (9.3 MB)
Download Audio - Lesson 04. Dialogue 3 - Drill B (15.6 MB)
Download Audio - Lesson 04. Dialogue 3 - Drill C (11.4 MB)
Download Audio - Lesson 04. Dialogue 3 - Additional Lunch Items (3.0 MB)
Download Audio - Lesson 04. Dialogue 3 - Tableware (3.3 MB)
Download Audio - Lesson 04. Dialogue 4 (11.7 MB)
Download Audio - Lesson 04. Dialogue 4 - Drill A (10.6 MB)
Download Audio - Lesson 04. Dialogue 4 - Drill B (17.4 MB)
Download Audio - Lesson 04. Dialogue 4 - Additional Food and Condiments (6.7 MB)
Description
This is the first book in a three book series and includes Lessons 0 - 4. Book 2 and Book 3 are also available for download.
This textbook is designed for beginning learners who want to learn basic Japanese for the purpose of living and working in Japan. Unlike textbooks written primarily for students, whose content largely centers on student life, this book focuses more on social and professional life beyond school.
As a beginning level textbook, this book includes many elementary grammar patterns (Japanese Language Proficiency Test Levels 5 and 4), but the vocabulary and situations are selected specifically for working adults. Explanations are kept concise so as to only cover key points. The main focus is on oral communication and the accompanying audio is to be used extensively. This textbook can be used for self-study, as part of an online course, or as a traditional college course.
Audio files are also available online via PSU Mediaspace.
Please see the Open Textbook Library for faculty Reviews of this textbook
Adopt / Adapt
This textbook was imported into Pressbooks on March 18, 2020, to make it easier for instructors to edit, build upon, and remix the content.
If you are an instructor adopting or adapting this PDXOpen textbook, please help us understand your use by Telling Us You're Using a PDXOpen Textbook.
Publisher
Portland State University Library
Subjects
Japanese language -- Study and teaching, Japanese language -- Textbooks for foreign speakers -- English Format
Rights
© 2018 Emiko Konomi

This open access textbook is licensed under a Creative Commons Attribution-NonCommercial 4.0 International License.
Persistent Identifier
http://archives.pdx.edu/ds/psu/16422
Recommended Citation
Konomi, Emiko, "Beginning Japanese for Professionals: Book 1" (2015). PDXOpen: Open Educational Resources. 6.
https://pdxscholar.library.pdx.edu/pdxopen/6
10.15760/pdxopen-4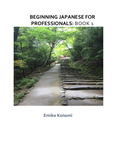 COinS