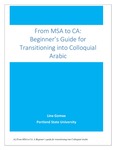 Files
Download Remediated Editable Version (Word) (1.5 MB)
Download Audio Chapter 1 - Formal Greetings (699 KB)
Download Audio Chapter 1 - Informal Greetings (812 KB)
Download Audio Chapter 1 - Practice Dialogue (605 KB)
Download Audio Chapter 2 - Examples on Using WH Words (1.4 MB)
Download Audio Chapter 2 - Taxi (866 KB)
Download Audio Chapter 2 - Requesting a Train Ticket (1.1 MB)
Download Audio Chapter 2 - At the Restaurant (1.0 MB)
Download Audio Chapter 2 - Practice Dialogue (634 KB)
Download Audio Chapter 3 - Present Tense Conjugations (770 KB)
Download Audio Chapter 3 - At the Sports Club (2.2 MB)
Download Audio Chapter 3 - Missing a Lecture at University (1.8 MB)
Download Audio Chapter 3 - Past Tense Conjugations Sampling (988 KB)
Download Audio Chapter 3 - What did you do Yesterday? (1.8 MB)
Download Audio Chapter 3 - Conjugations of Some Weak Verbs (1.7 MB)
Download Audio Chapter 3 - Practice Dialogue (1.5 MB)
Download Audio Chapter 4 - Examples on Present Tense Verbs (1004 KB)
Download Audio Chapter 4 - Mini Dialogues (1.9 MB)
Download Audio Chapter 4 - Accepting an Invitation to Lunch (826 KB)
Download Audio Chapter 4 - Politely Rejecting an Invitation to an Outing (899 KB)
Download Audio Chapter 4 - Practice Dialogue (698 KB)
Description
This book is for students who have studied Modern Standard Arabic (MSA) for one year or more and would like to learn colloquial Arabic basics using their knowledge of MSA. It aims at transitioning learners from Novice Mid level to Intermediate Low through presenting situations useful for living in an Arab country. The book has several features including hyperlinks, practice dialogues with open answers, cultural tips, and more.
Please see the Open Textbook Library for faculty Reviews of this textbook.
Audio files are available online
Adopt/Adapt
If you are an instructor adopting or adapting this PDXOpen textbook, please help us understand your use by filling out this form
Publisher
Portland State University Library
Subjects
Arabic language -- Textbooks for foreign speakers, Arabic language, Arabic language -- Study and teaching -- Foreign speakers
Rights
© 2018 Lina Gomaa

This open access textbook is licensed under a Creative Commons Attribution-NonCommercial 4.0 International License.
Persistent Identifier
http://archives.pdx.edu/ds/psu/16443
Recommended Citation
Gomaa, Lina, "From MSA to CA: A Beginner's Guide for Transitioning into Colloquial Arabic" (2015). PDXOpen: Open Educational Resources. 8.
https://pdxscholar.library.pdx.edu/pdxopen/8
10.15760/pdxopen-3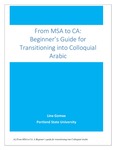 COinS