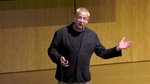 Title
Designing a Better Nighttime City
Abstract
Jeff Schnabel, director of PSU's School of Architecture, thinks we'd better start designing cities for their increasingly 24 hour, 7 day a week futures. As one of the founders of the annual Portland Winter Light Festival, he wants all city dwellers — architects, planners, politicians, academics — to plan creative and usable public spaces that are accessible all times of day and night.
Publication Date
10-16-2019
Recommended Citation
Schnabel, Jeff, "Designing a Better Nighttime City" (2019). PDXTalks. 3.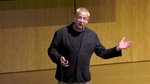 COinS