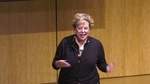 Title
A Love Letter to the Future
Abstract
Laura Nissen, professor in the School of Social Work, sees the future coming at us fast but also worries how little we all seem to be ready for it. As a foresight practitioner with the Institute for the Future, she believes every discipline should be looking ahead and imagining what its future might look like, even in times and places where things feel hopeless.
Publication Date
10-16-2019
Disciplines
Social and Behavioral Sciences
Recommended Citation
Nissen, Laura Burney, "A Love Letter to the Future" (2019). PDXTalks. 4.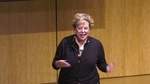 COinS