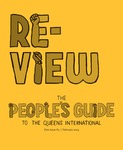 Files
Download Copy of BrianDroitcour-ChristineWongYap-TPGQI-01-photo-HaiZhang.jpg (124 KB)
Download Copy of BrianDroitcour-ChristineWongYap-TPGQI-02-photo-HaiZhang.jpg (172 KB)
Download Copy of BrianDroitcour-ChristineWongYap-TPGQI-03-photo-HaiZhang.jpg (100 KB)
Download Copy of BrianDroitcour-ChristineWongYap-TPGQI-04-photo-HaiZhang.jpg (82 KB)
Download Copy of BrianDroitcour-ChristineWongYap-TPGQI-05.jpg (99 KB)
Download Copy of BrianDroitcour-ChristineWongYap-TPGQI-06.jpg (93 KB)
Publication Date
2-15-2019
Description
The People's Guide to the Queens International was a collaborative art project organized by Brian Droitcour and Christine Wong Yap. We invited the public to write reviews of artworks in the Queens International 2018 exhibition. We offered many writing prompts, available in a purpose-built writing desk in our installation, prompts available in three Queens Museum galleries, and prompts housed in miniature kiosks with submission boxes at Queens Public Libraries at Flushing, Le Frak City, and at the Central branch in Jamaica. Prompts were available in Chinese, Spanish, and Russian. We also facilitated writing workshops at the museum and libraries.
Key Words
Art writing, Criticism, Publication, Zine, Collaboration, Queens, Activity sheets, Public library, Museum
Publication Location
Queens NY
Original Format
exhibition
Rights
The Art and Social Practice Archive materials are made available to the public under Creative Commons for personal, educational and non-commercial use within the parameters of "fair use" as defined under U.S. copyright law. No material will be reproduced, broadcast or distributed for commercial purposes.
Recommended Citation
Yap, Christine Wong and Droitcour, Brian, "Re-view: The People's Guide to the Queens International" (2019). The People's Guide to the Queens International. 1.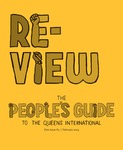 COinS