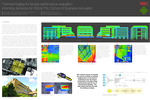 Abstract
This research serves to evaluate the current condition of existing building skins on The School of Business and The School of Education at Portland State University (PSU) through infrared thermography. The buildings were constructed at two different points: The School of Education in 1979 and The School of Business in 1986. Both have had minor renovations since their construction, and each are articulated in differing materiality. Infrared thermography is best suited for the researcher's purposes as it is non-invasive and will allow them to produce a data analysis of building structures before any deconstruction is conducted.
The research will inform the project currently being designed by SRG Partnership in collaboration with Behnisch Architekten. They will be renovating both existing buildings and designing a new addition for the School of Business. Their project aims to unify the two existing buildings and the new addition while upgrading the appearance and performance of the existing buildings. Primary stakeholders for this project wish to achieve a LEED Platinum certification set by the 2012 guidelines, with the possibility of addressing key components set by the Living Building Challenge. To achieve this will require an in-depth analysis of the existing structures as well as all future proposals early in the design stages.
The results of infrared testing will contribute to this analysis. The results show the greatest opportunity for improvement would be to address the School of Education. Compared to the School of Business, the facade of the education building did not perform as well, with bridging occurring more frequently and in larger areas. One of the primary goals SRG Partnership and Behnisch Architekten is the unification of the two existing buildings and the new addition, any changes to improve the performance of the education building could simultaneously contribute to the design of a more cohesive, unified composition.
Rights
In Copyright. URI: http://rightsstatements.org/vocab/InC/1.0/ This Item is protected by copyright and/or related rights. You are free to use this Item in any way that is permitted by the copyright and related rights legislation that applies to your use. For other uses you need to obtain permission from the rights-holder(s).
Persistent Identifier
https://archives.pdx.edu/ds/psu/38210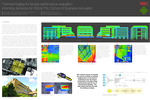 Included in
COinS