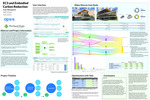 Abstract
The objective of this research was to use the Embodied Carbon in Construction Calculator (EC3) tool to evaluate the embodied carbon emissions in several material categories, allowing for specification and procurement of low carbon options. The case study for this research is the Shiley-Marcos Center for Design & Innovation (University of Portland), an adaptive reuse project currently in the late design and procurement phase of the construction process. This research was intended to contribute to the research done during the design phases related to the Whole Building Life Cycle Analysis (WBLCA) using Tally. I worked primarily with Heather DeGrella and Kelli Kimura from Opsis, as well as Stacy Smedley from Skanska, who has extensively worked on developing EC3.
Throughout the research, I worked in two EC3 files related to the two primary aspects of this research:
• Establishing comparisons to baselines using the construction estimate to determine the possibility of carbon reductions for the Shiley-Marcos project
• Exploring EC3's optimization and compatibility with Tally
In the file related to the construction estimate, I took the material and quantity data, researched the proper specifications, and added them into EC3. I then selected an EPD for each material unit and used EC3 to create comparisons to baselines. From there we were able to see areas of improvement and various baselines for the specified materials. The second file we analyzed the differences between the embodied carbon amount that was reported directly out of Tally versus what EC3 calculated from the same materials and quantities.
Rights
In Copyright. URI: http://rightsstatements.org/vocab/InC/1.0/ This Item is protected by copyright and/or related rights. You are free to use this Item in any way that is permitted by the copyright and related rights legislation that applies to your use. For other uses you need to obtain permission from the rights-holder(s).
Persistent Identifier
https://archives.pdx.edu/ds/psu/38356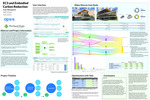 Included in
COinS