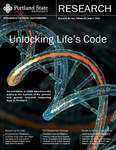 Description
To commemorate the opening of Tilikum Crossing and the launch of this dynamic new district, this issue of the RSP Quarterly Review focuses on PSU collaborations with OHSU, OMSI, and the City of Portland.
We start by describing how OMSI, PSU, and OHSU collaborated to bring an exhibit about the human genome from the Smithsonian Institution to Portland. We then present a series of stories about projects building on the complementary health and life science talents of PSU and OHSU researchers. These include a study of ethnic inequities in health care access, a new malaria therapy, tools to improve MRI measurements, and a new way to assess the efficacy of alternative treatments for concussions.
We also include an article about one of PSU's best-kept secrets—a high-tech metallurgy lab located in OMSI whose partners include many of the country's largest metal manufacturers, including Boeing, Blount International, Precision Castparts, and the US Navy.
No collection of stories about PSU's partnerships would be complete without reference to the close ties between the City of Portland and PSU's Institute for Sustainable Solutions. Here we report on the selection of Robert Liberty as the Institute's new Director. We also describe a faculty member's analysis of the complex relationships between urban gardens and gentrification, in Portland and Vancouver BC. A sustainability link with OHSU is recounted in a story about the "Oregon's Healthiest State" summit.
Publisher
Portland State University
Persistent Identifier
http://archives.pdx.edu/ds/psu/16560
Recommended Citation
Portland State University. Research & Strategic Partnerships, "Research & Strategic Partnerships: Quarterly Review, Volume 3, Issue 1" (2016). Portland State Research Magazine. 9.
https://pdxscholar.library.pdx.edu/rsp_quarterlyreview/9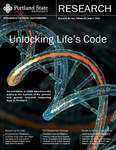 COinS