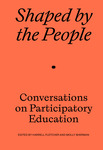 Publication Date
12-1-2019
Description
Shaped by the People is a book of conversations with artists about pedagogical practices that directly engage participants' knowledge in the learning process. The book We Make the Road by Walking by Myles Horton and Paulo Freire was an inspiration for Shaped by the People and provided a point of departure for its concept and structure. Contributors include Harrell Fletcher, Lisa Jarrett, Molly Sherman, Rosten Woo, Spencer Byrne-Seres, Anna Craycroft, Amanda Leigh Evans, The Living School of Art, Sarah Workneh, and Dawn Philip.
Link to Artist Website
Key Words
Pedagogy, Art education
Publication Location
Jersey City NJ
Publisher
Conveyor Editions
Original Format
print edition of 250, digital pdf
Rights
The Art and Social Practice Archive materials are made available to the public under Creative Commons for personal, educational and non-commercial use within the parameters of "fair use" as defined under U.S. copyright law. No material will be reproduced, broadcast or distributed for commercial purposes.
Recommended Citation
Sherman, Molly; Fletcher, Harrell; Jarrett, Lisa; Evans, Amanda Leigh; Woo, Rosten; Bryne-Seres, Spencer; Craycroft, Anna; Workneh, Sarah; and Philip, Dawn, "Shaped by the People: Conversations on Participatory Education" (2019). Shaped by the People. 1.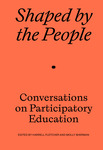 COinS