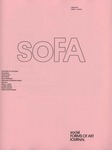 Description
The Social Forms of Art (SoFA) Journal is a bi-annual publication dedicated to supporting, documenting, and contextualizing socially engaged art and its related fields and disciplines. Each issue of the Journal focuses on a different theme in order to take a deep look at the ways in which artists are engaging with communities, institutions, and the public. The Journal seeks to support writing and web based projects that offer documentation, critique, commentary and context for a field that is active and expanding.

The SoFA Journal is published in print and PDF form twice a year, in June and December by the PSU Art & Social Practice Program. In addition to the print publication, the Journal hosts an online platform for ongoing projects.
Featuring in this issue: DB Amorin, Chris Cloud, Roz Crews, Beth Grossman, Shoshana Gugenheim Kedem, Ben Hall, Jesse F. James, Lo Moran, Rachel Mulder, Gerald Scrutchions
Link to Artist Website
Publication Location
Portland OR
Publisher
PSU Art + Social Practice
Rights
The Art and Social Practice Archive materials are made available to the public under Creative Commons for personal, educational and non-commercial use within the parameters of "fair use" as defined under U.S. copyright law. No material will be reproduced, broadcast or distributed for commercial purposes.
Recommended Citation
Portland State University Art and Social Practice, "SoFA Journal Issue 1: Civics" (2018). SoFA Journal. 1.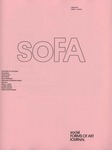 COinS