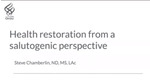 Format
Video: MP4; File size: 187 MB; Duration: 01:01:40
Abstract
The concept of salutogenesis, or health restoration, was introduced as a psychosocial model of health by Aaron Antonovsky in 1979. It is described as an orientation towards health promotion and restoration, as opposed to the pathogenic orientation which focuses on treating disease. He maintained that these two orientations are not contradictory but rather are complementary views that inform a more complete understanding of health. This way of thinking has long been common in Chinese medicine as well as naturopathic and integrative health care but in the last several years, the importance of considering whole person health and salutogenesis has become increasingly apparent to large biomedical research organizations and conventional medical providers alike, as evidenced by the recently initiated NIH-initiative Bridge2AI Data Generation project and the Whole Health program at the Veteran's Administration. It is reasonable for the study of salutogenesis to include the concept of whole organism health, which encompasses the health of multiple organs and systems as well as both physical and psychological domains. This type of research is challenging as it requires considering multiple types and scales of health data (biological, behavioral, social, environmental) as they change temporally during the restoration of an individual's health. The National Center for Complementary and Integrative Health (NCCIH) has expressed interest in applying system science methods for this study. Also, new bioinformatics methodology using data from controlled laboratory experiments offers an opportunity to develop advanced computational models that can capture and describe multidomain salutogenic processes, define their interconnectedness, and potentially identify optimal targets and temporal points for therapeutic intervention. This presentation will provide background on the concept of salutogenesis, parallels in traditional medicines and the recent interest in the National Center for Complementary and Integrative Health to build AI models to study this process. There will also be a survey of ideas and methods focusing on systems dynamics of temporal changes in networked health data (molecular, physiological, psycho-social) as a person moves from a less health to a healthier state.
Biographical Information
Dr. Steve Chamberlin is a naturopath, acupuncturist and graduate of OHSU's National Library of Medicine Fellowship in Bioinformatics and Computational Biology. He also had a 22-year prior career in data science and predictive modeling in a variety of industries, including environmental epidemiology, automotive and financial services. He is currently working at Oregon Health and Science University in the Department of Medical Informatics and Clinical Epidemiology. His research includes the application of computational methods for the study of integrative medicine, information retrieval with patient electronic health records, and system immunogenetics. He also teaches courses in statistics and applied machine learning. Specifically, he has used public data repositories to predict natural product treatments and their associated drug synergies for oral squamous cell cancer, to assess the pan-cancer treatment potential of natural products, and has helped to develop electronic tools to assist patients choosing to use integrative oncology services. In the last year, Dr. Chamberlin has also been researching the molecular mechanisms of an extract of the plant Centella asiatica for the treatment of neurodegenerative conditions, which falls under the umbrella of resilience research. A related area of interest to him is the study of salutogenesis, the process of moving from a less healthy state to a more healthy condition, which he would also call wellness restoration, or the complement of pathogenesis. He is currently working on an NIH Bridg2AI Data Generation project to create data to study salutogenesis using artificial intelligence methods.
Subjects
Health promotion, Social medicine, Health psychology
Disciplines
Systems Science
Persistent Identifier
https://archives.pdx.edu/ds/psu/38689
Rights
© Copyright Steve Chamberlin
IN COPYRIGHT: http://rightsstatements.org/vocab/InC/1.0/ This Item is protected by copyright and/or related rights. You are free to use this Item in any way that is permitted by the copyright and related rights legislation that applies to your use. For other uses you need to obtain permission from the rights-holder(s).
DISCLAIMER: The purpose of this statement is to help the public understand how this Item may be used. When there is a (non-standard) License or contract that governs re-use of the associated Item, this statement only summarizes the effects of some of its terms. It is not a License, and should not be used to license your Work. To license your own Work, use a License offered at https://creativecommons.org/
Recommended Citation
Chamberlin, Steve, "Health Restoration from a Salutogenic Perspective" (2022). Systems Science Friday Noon Seminar Series. 118.
https://archives.pdx.edu/ds/psu/38689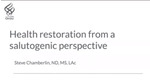 COinS