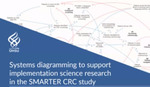 Format
Video: MP4; File size: 187 MB; Duration: 57:48
Abstract
The uptake of evidence-based health care interventions into clinical practice is slow, particularly for under- resourced clinics. The field of implementation science studies strategies for identifying, adapting, and implementing evidence-based practices in clinical care. Researchers in this field have recognized a need for systems science approaches to account for complexity in local contexts and multi-level interventions, but little guidance exists regarding its use. In this seminar, I will show how we are using systems diagramming (causal- loop and stock-and-flow) to support the implementation of two interventions to improve rates of colorectalcancer (CRC) screening among rural Medicaid enrollees in Oregon. This study, titled SMARTER CRC, is conducted by the Oregon Rural Practice-based Research Network (ORPRN) and the Kaiser Permanente Center for Health Research and is part of Accelerating Colorectal Cancer Screening and follow-up through Implementation Science (ACCSIS), a Cancer Moonshot program.
Biographical Information
Erin Kenzie, PhD, is a senior analyst at the Oregon Rural Practice-based Research Network at Oregon Health & Science University and an instructor in the PSU Systems Science Program. She graduated with her PhD in systems science from PSU in 2021. Her current research involves utilizing systems-based approaches to synthesize evidence and support decision-making in health care systems.
Subjects
Systems diagramming, Emerging technologies, Computer software – Development, System analysis
Disciplines
Systems Science
Persistent Identifier
https://archives.pdx.edu/ds/psu/38711
Rights
© 2022 Erin Kenzie
IN COPYRIGHT: http://rightsstatements.org/vocab/InC/1.0/ This Item is protected by copyright and/or related rights. You are free to use this Item in any way that is permitted by the copyright and related rights legislation that applies to your use. For other uses you need to obtain permission from the rights-holder(s).
DISCLAIMER: The purpose of this statement is to help the public understand how this Item may be used. When there is a (non-standard) License or contract that governs re-use of the associated Item, this statement only summarizes the effects of some of its terms. It is not a License, and should not be used to license your Work. To license your own Work, use a License offered at https://creativecommons.org/
Recommended Citation
Kenzie, Erin, "Systems Diagramming to Support Implementation Science Research in the SMARTER CRC Study" (2022). Systems Science Friday Noon Seminar Series. 119.
https://archives.pdx.edu/ds/psu/38711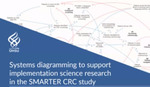 COinS