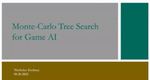 Title
Format
Video: MP4; File size: 157 MB; Duration: 50:23
Abstract
The Monte-Carlo Tree Search (MCTS) algorithm became prominent in the 2010s by facilitating the first AI players capable of human-level play in the game of Go. Most notably, it provided a key component of the DeepMind AlphaGo player that famously defeated Lee Sedol in a 5-game Go series in 2016. This talk will explain the MCTS algorithm and contextualize it by contrasting it with more traditional game techniques and other Monte-Carlo techniques.
Biographical Information
Nick Embrey is a recent graduate of the M.S. in Computer Science at Portland State University and received a graduate certificate in Computer Modeling & Simulation from the Systems Science program. Prior to attending Portland State University, he studied ancient Mediterranean literature and languages as an undergraduate and worked for several years as a software engineer. During his last few terms at PSU, he worked on a project with Bart Massey of the Computer Science department to create an MCTS AI player for the tabletop card game Dominion.
Subjects
Monte Carlo method, Dielectric measurements, Electromagnetic waves -- Scattering
Disciplines
Systems Science
Persistent Identifier
https://archives.pdx.edu/ds/psu/39227
Rights
© 2023 Nick Embry
IN COPYRIGHT: http://rightsstatements.org/vocab/InC/1.0/ This Item is protected by copyright and/or related rights. You are free to use this Item in any way that is permitted by the copyright and related rights legislation that applies to your use. For other uses you need to obtain permission from the rights-holder(s).
DISCLAIMER: The purpose of this statement is to help the public understand how this Item may be used. When there is a (non-standard) License or contract that governs re-use of the associated Item, this statement only summarizes the effects of some of its terms. It is not a License, and should not be used to license your Work. To license your own Work, use a License offered at https://creativecommons.org/
Recommended Citation
Embry, Nick, "Monte Carlo Tree Search" (2023). Systems Science Friday Noon Seminar Series. 123.
https://archives.pdx.edu/ds/psu/39227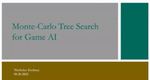 COinS