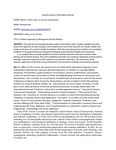 Format
Video: MP4; File size: 380 MB; Duration: 01:01:06
Abstract
This talk aims at providing decision makers and scholars with a readily available tool and a brand-new approach so that managers and entrepreneurs know their decisions are mostly reliable and made on the basis of a sound scientific foundation. With this tool and approach scholars can investigate problems of managerial decision making by developing unprecedented insights and conclusions. To accomplish this practically significant and theoretically important outcome, instead of data mining and anecdotal analysis, this work establishes generally-true results by employing systems science and logic reasoning in general and the systemic yoyo model in particular. This theoretical, while intuitive, approach avoids all the serious limitations of econometric methods and anecdotal analyses.
Biographical Information
Dr. Jeffrey Yi-Lin Forrest, also known as Yi Lin, holds all his educational degrees in pure mathematics and had one-year post-doctoral experience in statistics at Carnegie Mellon University. He had been a guest professor of economics, finance, mathematics, and systems science at several major universities in China, including Nanjing University of Aeronautics and Astronautics. And currently, he is a professor of mathematics and research coach for the School of Business at Slippery Rock University, Pennsylvania, and the president of the International Institute for General Systems Studies, Inc., Pennsylvania. He serves either currently or in the past on the editorial boards of thirteen professional journals, including "Kybernetes: the International Journal of Systems, Cybernetics and Management Science," "Journal of Systems Science and Complexity," "International Journal of General Systems," "The Journal of Grey Systems," etc. Currently, Dr. Forrest serves as a co-editor-in-chief of the international journal "Advances in Systems Science and Application," the editor- or co-editor-in-chief of four book series, "Series on Grey System (Springer, Singapore), "Systems Evaluation, Prediction, and Decision-Making (CRC Press, New York)," "Communications in Cybernetics, Systems Science and Engineering (CRC Press, Balkema)," and "Communications in Cybernetics, Systems Science and Engineering – Proceedings (CRC Press, Balkema)." Some of Dr. Forrest's research was funded by United Nations, State of Pennsylvania, National Science Foundation of China, and German National Research Center for Information Architecture and Software Technology. As of the end of 2020, he has published well over 500 research works, including over 50 monographs and special topic volumes. Some of these monographs and volumes were published by such prestigious publishers as Springer, Taylor and Francis, World Scientific, Kluwer Academic, Academic Press, etc. Over the years, Dr. Forrest's scientific achievements have been recognized by various professional organizations and academic publishers. In 2001, he was inducted into the Honorary Fellowship of the World Organization of Systems and Cybernetics. His research interests are wide ranging, covering areas like data analytics, economics, finance, management, marketing, prediction, mathematics, systems research and applications, philosophy of science, etc.
Subjects
Decision making, System theory
Disciplines
Systems Science
Persistent Identifier
https://archives.pdx.edu/ds/psu/39504
Rights
© 2023 Jeffrey Yi-Lin Forrest
© Copyright the author(s) IN COPYRIGHT: http://rightsstatements.org/vocab/InC/1.0/ This Item is protected by copyright and/or related rights. You are free to use this Item in any way that is permitted by the copyright and related rights legislation that applies to your use. For other uses you need to obtain permission from the rights-holder(s).
DISCLAIMER: The purpose of this statement is to help the public understand how this Item may be used. When there is a (non-standard) License or contract that governs re-use of the associated Item, this statement only summarizes the effects of some of its terms. It is not a License, and should not be used to license your Work. To license your own Work, use a License offered at https://creativecommons.org/
Recommended Citation
Forrest, Jeffrey Yi-Lin, "A Holistic Approach to Managerial Decision Making" (2023). Systems Science Friday Noon Seminar Series. 128.
https://archives.pdx.edu/ds/psu/39504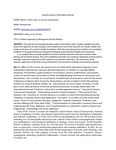 COinS