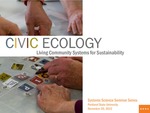 Abstract
Civic Ecology is a stakeholder-driven, whole systems framework for creating sustainable communities. The framework focuses on empowering citizens of all ages, cultures, and abilities to envision, create, and manage their community's unique "software" -- the integrated energy, nutrient, water, waste, material, and food systems, as well as economic flows and cultural interactions that animate their place. Exploring and supporting these flows allows communities to enhance their local wealth (environmental, economic, and social), resilience, and competitiveness, and help them take control of designing and managing their future through collaboration and innovation. The Civic Ecology framework can be the foundation upon which investments in community "hardware" (i.e. storm water facilities, green streets, district energy facilities and EcoDistricts) can be realized.
This presentation will provide attendees with a working understanding of the Civic Ecology framework by describing principles, benefits, the five-step CIVIC process, and examples of Civic Ecology applications in a variety of communities.
Biographical Information
Tim Smith is a certified planner and a registered architect with thirty years of professional experience. Tim received a Master of Architecture in Urban Design and a Masters in City Planning from the University of Pennsylvania. Tim taught urban design and town planning at the University of Pennsylvania in the Graduate School of Fine Arts. He has directed planning and design studies for transit-oriented development, new towns and villages, the revitalization of existing villages, corridor planning projects, land use studies, town center planning and design projects, and community involvement initiatives.
Subjects
Environmental protection -- Citizen participation, Human ecology, Urban ecology (Sociology), Community development, Sustainable development -- Social aspects, Communities of practice
Disciplines
Human Ecology | Sustainability
Persistent Identifier
https://archives.pdx.edu/ds/psu/30985
Recommended Citation
Smith, Tim, "Civic Ecology: Living Community Systems for Sustainability" (2012). Systems Science Friday Noon Seminar Series. 14.
https://archives.pdx.edu/ds/psu/30985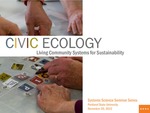 Included in
COinS