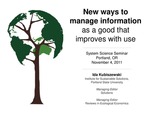 Abstract
Information has some unique characteristics. Unlike most other goods and services, it is neither rival (use by one prevents use by others) nor non-rival (use by one does not affect use by others), but is enhanced with increased use, or 'additive'. Therefore a unique allocation system for both the production and consumption of information is needed. Under the current market-based allocation system, production of information is often limited through the exclusive rights produced by patents and copyrights. This limits scientists' ability to share and build on each other's knowledge. We break the problem down into three separate questions: (1) do markets generate the type of information most important for modern society? (2) are markets the most appropriate institution for producing that information? and (3) once information is produced, are markets the most effective way of maximizing the social value of that information? We conclude that systematic market failures make it unlikely that markets will generate the most important types of information, while the unique characteristics of information reduce the cost-effectiveness of markets in generating information and in maximizing its social value. We then discuss alternative methods that do not have these shortcomings, and that would lead to greater overall economic efficiency, social justice and ecological sustainability. These methods include monetary prizes, publicly funded research from which the produced information is released into the public domain, and status driven incentive structures like those in academia and the "open-source" community.
Biographical Information
Dr. Ida Kubiszewski is a Research Assistant Professor in the Institute for Sustainable Solutions, at Portland State University. She is also the Managing Editor for a new magazine/journal hybrid called Solutions and one called Reviews of Ecological Economics. Ida is a co-founder and former-Managing Editor of the Encyclopedia of Earth. Dr. Kubiszewski is the author or co-author of dozen's of scientific papers. She is a Junior Fellow at the National Council for Science and the Environment and sits on the steering committees or advisory boards of various organizations including the Ecosystem Service Partnership, Environmental Information Coalition, and the U.S. Society for Ecological Economics. Ida received her B.A. in Astronomy and Physics from Boston University and her M.A. in Energy and Environmental Analysis through the Center for Energy and Environmental Studies also at Boston University. She received her Ph.D. through the Gund Institute for Ecological Economics in the School of Natural Resources at the University of Vermont. Her dissertation topic was 'Searching for the Sweet Spot: Managing Information as a Good that improves with Use.'
Subjects
Information resources -- Management, Scholarly communication -- Economic aspects, Knowledge management, Scholarly publishing
Disciplines
Publishing | Scholarly Communication | Scholarly Publishing
Persistent Identifier
https://archives.pdx.edu/ds/psu/30996
Rights
© Copyright the author(s)

IN COPYRIGHT:
http://rightsstatements.org/vocab/InC/1.0/
This Item is protected by copyright and/or related rights. You are free to use this Item in any way that is permitted by the copyright and related rights legislation that applies to your use. For other uses you need to obtain permission from the rights-holder(s).
DISCLAIMER:
The purpose of this statement is to help the public understand how this Item may be used. When there is a (non-standard) License or contract that governs re-use of the associated Item, this statement only summarizes the effects of some of its terms. It is not a License, and should not be used to license your Work. To license your own Work, use a License offered at https://creativecommons.org/
Recommended Citation
Kubiszewski, Ida, "New Ways to Manage Information as a Good that Improves with Use" (2011). Systems Science Friday Noon Seminar Series. 17.
https://archives.pdx.edu/ds/psu/30996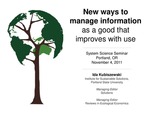 COinS