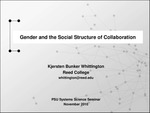 Abstract
Previous research demonstrates that individuals' network positions in their surrounding social structure of relations influence the extent of their output and performance. The unique situation of minority groups complicates the relationship, however, as issues of status, legitimacy, and marginality influence the flow and interpretation of information and resources. While several scholars have addressed differences in male and female networks in the workplace, the association between macro-level work arrangements and the micro-level interaction mechanisms of minority groups is unclear. Greater insight into stratification processes can be gained by studying how organizational forms affect the way men's and women's networks are structured in the workplace. In this research I explore how the contrasting contexts of work in hierarchical versus horizontal settings operate at the network level to produce differences in productivity between male and female workers. I examine twenty years of collaborative inventor relations, built from a national sample of life science organizations which include pharmaceutical companies, public research organizations, research one universities, and science-based firms. The results show that men and women scientists demonstrate different network characteristics, but the magnitude and predictive power of these differences vary across work settings. The results have implications for structural influences on sex differences in network relationships, and provide evidence that flatter, more horizontally-distributed organizational forms may provide more advantaging "opportunity structures" for women life scientists as compared with those in the academic science hierarchy and elsewhere.
Biographical Information
Kjersten Bunker Whittington is an assistant professor of sociology at Reed College. Her current research investigates whether and how the durable gender inequality in science careers is affected by the recent changing boundaries between universities and firms, and the increasing trend to commercialize basic research in academia. Whittington also studies formal organizations and the science economy. With collaborators, she is engaged in research that examines the contingent role of inter-organizational network structure and regional clustering in influencing innovative output among science-based firms.
Subjects
Women in science -- Social aspects, Gender -- Social aspects, Women scientists, Science -- Effect of social networks on, Organizational behavior
Disciplines
Gender and Sexuality | Science and Technology Policy | Technology and Innovation
Persistent Identifier
https://archives.pdx.edu/ds/psu/31008
Rights
© Copyright the author(s)

IN COPYRIGHT:
http://rightsstatements.org/vocab/InC/1.0/
This Item is protected by copyright and/or related rights. You are free to use this Item in any way that is permitted by the copyright and related rights legislation that applies to your use. For other uses you need to obtain permission from the rights-holder(s).
DISCLAIMER:
The purpose of this statement is to help the public understand how this Item may be used. When there is a (non-standard) License or contract that governs re-use of the associated Item, this statement only summarizes the effects of some of its terms. It is not a License, and should not be used to license your Work. To license your own Work, use a License offered at https://creativecommons.org/
Recommended Citation
Whittington, Kjersten Bunker, "Gender and the Social Structure of Collaboration" (2010). Systems Science Friday Noon Seminar Series. 23.
https://archives.pdx.edu/ds/psu/31008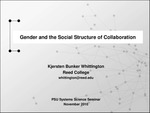 COinS