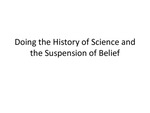 Abstract
Samuel Taylor Coleridge (1817) described the "suspension of disbelief" as a sort of bargain between the author and the audience necessary to creative literature. Conversely, one might describe the "suspension of belief" as a necessary element of doing the history of science. In modern civilization, science counts as the social institution which delineates the boundaries of knowledge per se, as opposed to belief, opinion, etc. We might describe this as the cultural myth of science--not in the sense of judging its truth or falsehood, but rather in the sense of its being foundational and largely unquestioned in modern society. Yet a historical account of how science developed requires that we suspend our current state of knowledge as a relevant factor, unless we are prepared to claim, teleologically, that this current state of knowledge played a causative role in past developments. Two aspects of the cultural myth of science have seemed to me particularly persistent and needing of suspension in order to create a cogent historical account: 1) an almost overwhelming tendency to interpret historical significance (exclusively) from the perspective of the known "winners"; 2) Uncritical belief in pure science or "knowledge for its own sake" which casts any kind of economic, political, or other "external" involvement as necessarily deterimental to the scientific enterprise.
Biographical Information
Richard Beyler received his Ph.D. in history of science from Harvard University in 1994. After post-doctoral fellowships in Berlin and in Washington, he came to Portland State University in 1996, where he is associate professor of history. His teaching fields are history of science, European intellectual history, and German history. His current research follows two main tracks: biophysics in the 1920s and 1930s, and the political realignment of German scientific institutions before and after World War II.
Subjects
Science -- History, History -- Methodology, History -- Philosophy, Myth -- Social aspects
Disciplines
History of Science, Technology, and Medicine
Persistent Identifier
https://archives.pdx.edu/ds/psu/31055
Rights
© Copyright the author(s)

IN COPYRIGHT:
http://rightsstatements.org/vocab/InC/1.0/
This Item is protected by copyright and/or related rights. You are free to use this Item in any way that is permitted by the copyright and related rights legislation that applies to your use. For other uses you need to obtain permission from the rights-holder(s).
DISCLAIMER:
The purpose of this statement is to help the public understand how this Item may be used. When there is a (non-standard) License or contract that governs re-use of the associated Item, this statement only summarizes the effects of some of its terms. It is not a License, and should not be used to license your Work. To license your own Work, use a License offered at https://creativecommons.org/
Recommended Citation
Beyler, Richard H., "Doing the History of Science and the Suspension of Belief" (2009). Systems Science Friday Noon Seminar Series. 40.
https://archives.pdx.edu/ds/psu/31055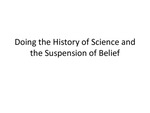 COinS