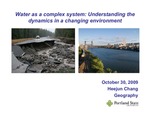 Abstract
The water resources system is constantly evolving over space and time at a range of scales. Human-induced climate change and land development are probably two major driving forces of water resource system changes. However, the impacts of such changes are region specific, which depend on watershed characteristics such as topography and geology. Numerical simulation models are useful tools for understanding the system dynamics by allowing the multiple interactions of system components. I will introduce case studies of the Pacific Northwest that examine how changing climate and population growth affect regional water resources at multiple spatial and temporal scales and explain the major determinants of such changes in the system. A combination of a GIS-based hydrologic model and a hydroeconomic model is used for integrated environmental change impact assessment.
Biographical Information
Heejun Chang is an Associate Professor of Geography at Portland State University, in Portland, Oregon, USA where he teaches courses in physical geography, hydrology, climate and water resources, global water issues and sustainability, GIS for water resources, and spatial quantitative analysis. His research areas include impacts of climate variability and change on regional water resources, land cover change and water quality, use of geospatial technology for hydrology and water resources, and urban flooding in Monsoon Asia. Professor Chang's work has been funded by the Sustainable Water Resources Program at the Ministry of Education, Science and Technology of Korea (Technology for Climate Impact Assessment), the US National Science Foundation (Urban Water Quality), NOAA (climate change and urban water demand), NRCS (spatial database development), and the James F. and Marion L. Miller Foundation (Sustainable Water Resources Management, Hydrologic Ecosystem Services Dynamics, Coupled Carbon and Water Cycle in Urban Areas). His recent publications appear in such interdisciplinary, international journals as Climatic Change, Climate Research, Hydrological Processes, International Journal of Climatology, Journal of Environmental Management, River Research and Applications, Science of the Total Environment, and Water Research. Chang is currently a representative for the Willamette River Basin in UNESCO's HELP (Hydrology, Environment, Land and Policy) program. He holds a Ph.D. in Geography from the Pennsylvania State University. For more information about Chang's research, please visit http://www.web.pdx.edu/~changh/research.html.
Subjects
Climatic changes, Water supply -- Management, Land use -- Planning, Pacific Northwest -- Environmental conditions, Water supply -- Pacific Northwest -- Effect of population growth on, Water supply -- Pacific Northwest -- Effect of climatic changes on
Disciplines
Climate | Fresh Water Studies | Geography
Persistent Identifier
https://archives.pdx.edu/ds/psu/31057
Rights
© Copyright the author(s)

IN COPYRIGHT:
http://rightsstatements.org/vocab/InC/1.0/
This Item is protected by copyright and/or related rights. You are free to use this Item in any way that is permitted by the copyright and related rights legislation that applies to your use. For other uses you need to obtain permission from the rights-holder(s).
DISCLAIMER:
The purpose of this statement is to help the public understand how this Item may be used. When there is a (non-standard) License or contract that governs re-use of the associated Item, this statement only summarizes the effects of some of its terms. It is not a License, and should not be used to license your Work. To license your own Work, use a License offered at https://creativecommons.org/
Recommended Citation
Chang, Heejun, "Water as a Complex System: Understanding the Dynamics in a Changing Environment" (2009). Systems Science Friday Noon Seminar Series. 41.
https://archives.pdx.edu/ds/psu/31057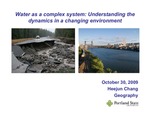 COinS